Recently updated on March 26th, 2023
Website, landing pages, and funnels are some of the most important things that every marketer, freelancer, course creator, or entrepreneur needs. But there are so many funnel, website, and landing page builders in the market that it becomes extremely hard to choose the best option. So here is a complete review of the best website, landing page, and funnel builder in the market right now: FlexiFunnels! And this is the only review you will need to read. So let's get started.
What is FlexiFunnels?
The sales funnel is a very powerful aspect of marketing and sales. A converting funnel saves you time and money while increasing your sales. But creating a sales funnel manually is a very hectic, time-consuming, and complex process. It requires coders, website designers, web hostings, domains, SSL certificates, payment gateway integrations, and much more. And though it is effective and many people have made a lot of revenue, it is hard to build.
FlexiFunnels is the best funnel and landing page builder on the planet, and it has solved all these problems to the point that even a 6th grader can design and build landing pages easily without the need for coding or designing. And it offers way more features and bonuses.
Is FlexiFunnels legit? What are users saying about the platform?
Definitely yes. FlexiFunnels is totally worth your money. After going through all the features (which we are going to discuss below), we can say that Flexi Funnels can be one of the best investments when you're planning to get started with your online business.
According to us, the best way to check the legitimacy of a product is by watching how many people have gotten results from it. When it comes to FlexiFunnels, there are so many great results that this whole blog may turn into a book of case studies, but let me share some of the screenshots of results that people have generated by leveraging the features of FlexiFunnels. One or two screenshots could be fake, but we haven't seen any online platform with such a plethora of testimonials on its sales page itself.
To verify deeper, we also went through the ratings of FlexiFunnels on 3rd party tools like Trustpilot, and here is what we found. If you're interested in what FlexiFunnels users are saying about the product, you might want to check out Trustpilot reviews of FlexiFunnels.
Also, here are some of the online experts who use/recommend FlexIFunnels.
Alright… we have already seen what people are saying about the platform. But is it useful for you? Is it really worth your money? Let's dive straight into the features to find out more about this software:
FlexiFunnels Features
FlexiFunnels has a wide range of features in every category to help you get more leads, nurture them, convert them into paying customers, and retain them by giving them an excellent user experience.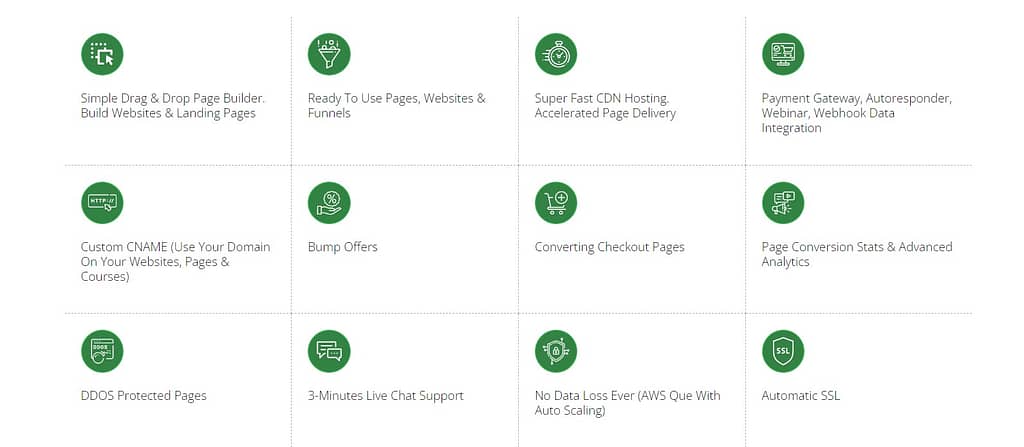 All these features of FlexiFunnels make your work super easy, from building the fastest pages and websites to generating leads, integrating softwares, and increasing your sales and conversion through leading payment platforms. They have it all covered in one place.
Let's check out some core features of FlexiFunnels:
1. Editor & Hosting:
You can create converting landing pages with amazing pre-built 400+ templates by a simple drag-and-drop method. And these landing pages also have super fast hosting and accelerated page delivery because they use CDN hosting.
2. Membership
This is a super feature, especially for course creators. Your course will be piracy protected with OTT level security, maximum of 2 IP login features, data protection, a name on video, and IP tracking. Right-click disable, and blackout on screen recording. That is super cool. And there are more management features like multiple courses, bundle upselling, drip feed, and much more to provide you with the course security that you deserve while generating more revenue opportunities for you without draining your pocket. What we loved about FlexiFunnels Memberships is that you can upsell courses inside the course area.
This automated upsell feature can bring you a lot of revenue automatically if you have provided real value in your initial courses.
3. Checkout Pages:
It's necessary to have customized checkout pages to convert more people into buyers. Let's see with the help of an example: Suppose your checkout page converts 1 out of 100 users into customers now for a product costing $300. After you add timers, testimonials, and deliverables, more people start buying your products. Previously, 1/100 people would buy your product; now, 4/100 people will buy it, resulting in 4X revenue from simple changes to your checkout page.
This is the power that you get with FlexiFunnels. With the most converting checkout page templates, you also get one-click order bumps, timers on checkout pages, coupon codes, secure payment seals, a cart abandonment feature, retargeting non-buyers, and more. It boosts your sales and helps you get lost sales back as well.
4. Integrations
FlexiFunnels can integrate with all other software and make your work smoother and faster.
Along with these integrations, FlexiFunnels also offers a webhook feature. With this feature, you can easily share all your data from FlexiFunnels to any other platform.
5. Reporting:
You get a very easy-to-understand report of all your campaigns, leads, and conversions to help you track everything easily. Not just that, you can extract an insane amount of data from the FlexiFunnels reporting dashboard.

Imagine how your business would be when you're able to get into the very little details of your business that no one knows. With such data, you can easily take data-driven decisions to skyrocket your online business growth.
6. Advanced Analytics:
It gives you detailed page-wise analytics so that you are able to optimize every single page and section and scale your sales to greater heights. It's pretty easy to apply filters & get specific details of which products are selling well, which pages are not performing well, what is the total revenue, how many rupees (or dollars) you are generating from each visitor, and much more.
7. Advanced Funnel Logics:
You can make your funnels more advanced by adding more upsells, cross-sells, and down sells so that you can make revenue on every stage of a very well-built funnel. There are many more advanced funnel logics, like price variations and more, that Saurabh Bhatnagar teaches you in his courses and that you automatically get access to. And what is even more amazing is that you are getting all these for completely free! The package and even future upgrades in FlexiFunnels are completely free for registered users!
But wait, there's more! Along with all these, you get amazing customer support, a ton of training from Saurabh Bhatnagar, tons of bonuses, and all this for completely free! After hearing so much, if you wish to try FlexiFunnels, you will be very excited to know that they give you a 30-day money-back guarantee. So if you take FlexiFunnels today and if you don't like it, just email them and you will get your money back without even a single question.
How to Use FlexiFunnels
1. Open FlexiFunnels
2. On Dashboard Settings, You can see "Projects"
To build a landing page in FlexiFunnels, first, you need to create a "Project". Click on the "Projects" option displayed on Dashboard Screen.
3. Then you need to click on the "+create new" button displayed on the Projects screen.
4. After you have completed these steps, you need to select the Landing Page Category. 
They have a range of landing page template categories and prebuilt templates in each category.
After all this, you need to select your Landing Page Category.
5. After having selected your preferred Landing Page Template, the screen will look like this.
And you have successfully built a Project in FlexiFunnels with a converting landing page.
6. Now just click on the "Edit Page" Button and start editing your landing page the way you like.
How To Make Money With FlexiFunnels?
There are many ways to make money online with FlexiFunnels. Some of them are as follows:
1. Website, funnel, and landing page building:
You can either create funnels, websites, and landing pages for your own business or for your clients, or even both, and make easy money because creating funnels, websites, and landing pages is super easy with FlexiFunnels. There are so many people who found their first client in their own Facebook community. You can post your work there & use their client-getting trainings to make significant passive income for yourself.
2. Course creation
If you have any skill that you can teach to the world in the form of courses, then FlexiFunnels is the best option for you. They have a complete range of pre-built landing pages personalized for course creators. All that you have to do is select your favorite lead generation, sales, and checkout pages and start customizing the content. Plus, your courses are super secure, the membership area is insanely fast, and you also get access to a revenue-boosting feature that can help you generate more money from your existing users.
3. Selling products
You can sell your own products or become an affiliate and sell someone else's products through prebuilt funnels and landing pages that can be set up within a few hours, and if you have an existing audience, you can start making money from the first day.
4. Freelancers
If you want to be a freelance service provider like a copywriter, designer, or social media marketer, then again, FlexiFunnels has got you covered. Simply build a sales funnel with pre-built simple edit pages, integrate email responders and payment gateways, and start driving traffic and getting clients.
5. Running a full-fledged marketing agency
Now, if you understand digital marketing concepts and have good knowledge of sales funnels, you can scale your marketing agency like anything. There are so many businesses that are looking forward to taking digital marketing services more than ever. Even if you are just starting out, you can easily get the free courses from Saurabh Bhatnagar inside FlexiFunnels itself, apply them to FlexFunnels to offer complete marketing services for your clients, and start making money. They have guided a lot of people who are doing it successfully.
6. Affiliate marketers
If you are an affiliate marketer, then FlexiFunnels is highly profitable and time-saving for you. As soon as you become a part of FlexiFunnels, you become an affiliate automatically and start earning 25% commissions from the 3rd sale onwards. The best part is that all of this commission is recurring, so if you're able to sell FlexiFunnels to just 10–20 people, you can start generating a decent income for yourself.
Pros and Cons of FlexiFunnels
Here is a brief list of the pros and cons that FlexiFunnels have, along with the grades that users have given it.
Here, as you can see, FlexiFunnels has speed, ease of usage, prebuilt-converting pages, security and safety, affordability, integrations, analytics, piracy protection, and so many other additional pros like training and support. But even after all these pros, FlexiFunnels has one challenge.
It takes you around a week to understand all these features and use them to their highest potential. And this is because funnels are not gimmicks, they are systems that need to be learned, understood, and practiced. And at the top, you can see that people who have used FlexiFunnels have rated it nothing less than 8 in every aspect.
FlexiFunnels Review Verdict: Is It Worth It?
If you ask me this—if FlexiFunnels is worth $397 per year or not—I would say it is thousand times more worthy than this. A funnel and landing page builder, so easy to use, with this much speed, with so many features, safety, integration options, payment options, training, and support—and that too at the most affordable price in the whole market. It is a no-brainer offer to me!!
Pricing Plans
FlexiFunnels offers two highly affordable pricing plans, from which you can select the one that best suits your needs.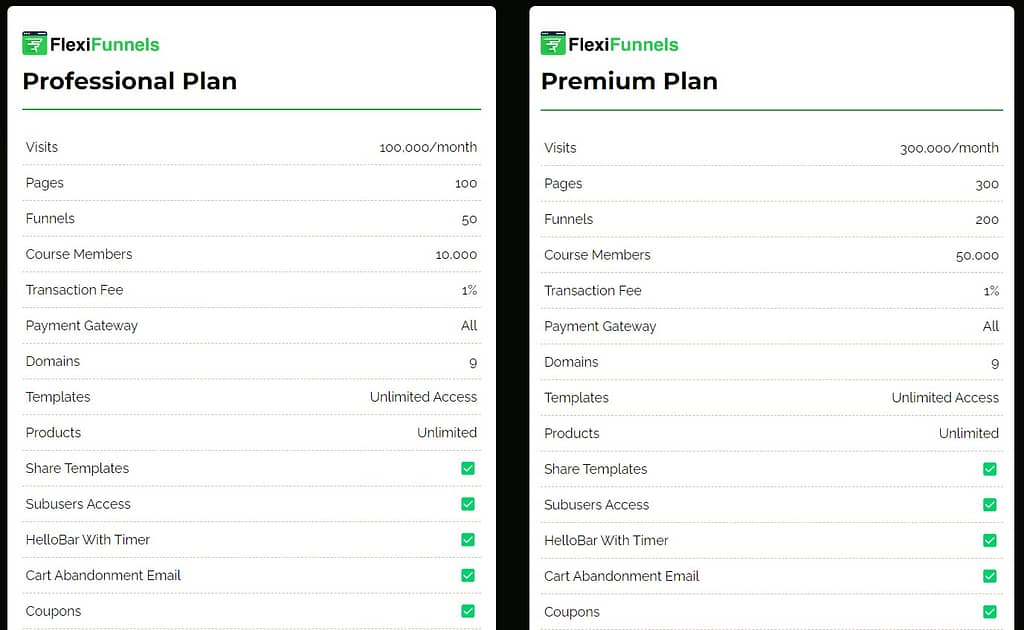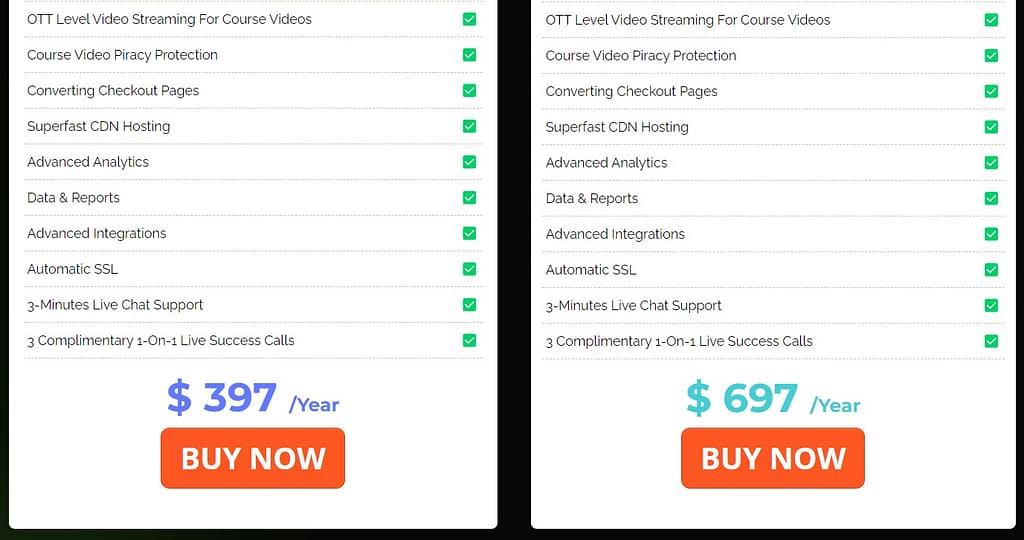 The main difference between both plans is just the number of visitors you are getting. The more visitors the more pages and funnels and course memberships are needed thus, you can do exactly everything with the professional plan if you are not generating more than 100,000 visitors a month. You are getting the same number of domains and payment gateways and access to the same features. See, I told you no psychological persuasion tactic to manipulate you into buying the premium one.
Alternatives to FlexiFunnels
Here is a comparison of FlexiFunnels with some other leading funnel and landing page builders.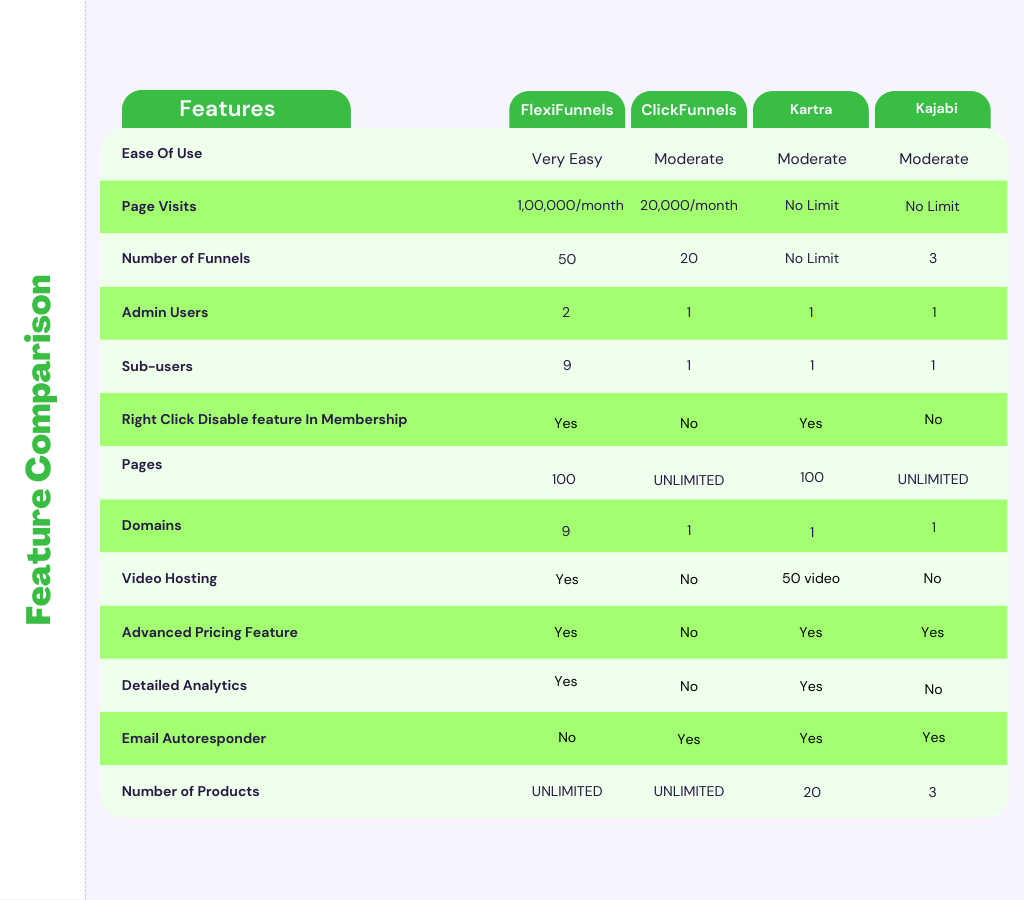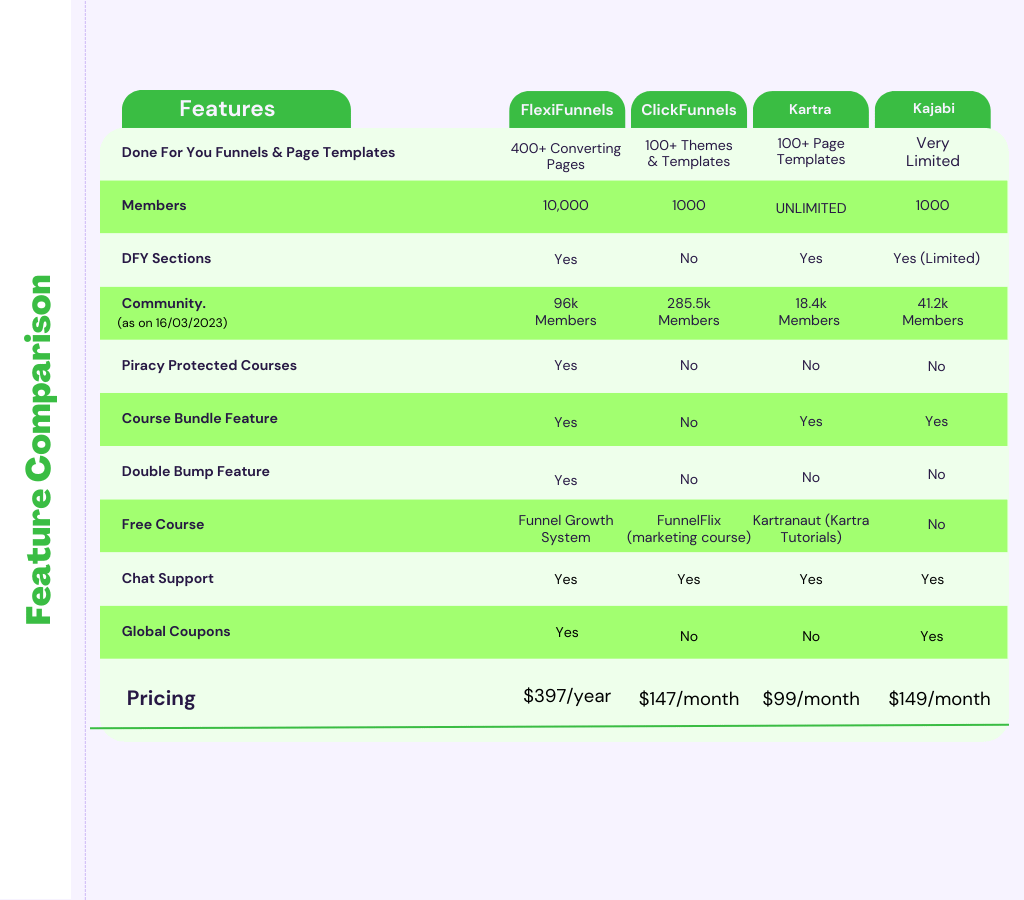 So you can see for yourself that all these alternatives are good but not as good as FlexiFunnels. Not only are they offering lesser but also charging way more.
FlexiFunnels FAQs
1) Does FlexiFunnels have a free plan?
No, they don't have a free plan but they do give you a 30-day money-back guarantee that seems equal to a free trial to me.
2) What is FlexiFunnels' price?
FlexiFunnels has 2 highly affordable pricing plans, – A professional plan for $397/ year – A premium plan for $697/ year.
3) How will FlexiFunnels help me?
FlexiFunnels will help you reach your business goals faster through
Amazing easy-to-use templates, safety, integration, and more features
Training by Saurabh Bhatnagar on FlexiFunnels, copywriting, ads, and more.
Extensive support to guide you whenever you feel stuck.
4) Is FlexiFunnels Worth It?
Yes, FlexiFunnels is totally worth it because it is the most amazing easy-to-use funnel builder with safety, integration, payment, and more features with expert training and wonderful support at the most affordable price.
5) FlexiFunnels' support – good or bad?
The FlexiFunnels support is top-notch. You can take advantage of this amazing support from Monday to Saturday from 9 am to 10 pm & on Sunday from 9 am to 6 pm. The FlexiFunnels support includes:
Live chat support and ticketing system
Detailed Features, knowledgebase, and training
3 Complimentary 1-on-1 onboarding calls
Bi-weekly Live FlexiFunnels Q&A Sessions
6) Is there any good alternative to FlexiFunnels?
There are funnel builders present in the market but I couldn't find a platform that gives all these features at this price point.
7) Do they have an upsell for advanced features?
They have advanced features but you get them for completely free as of now.
8) Do I need to pay for updates?
No, absolutely not, you get the updates for free.
9) Is there any refund guarantee?
Yes, there is a no questions asked 30-day money-back guarantee.
Conclusion:
FlexiFunnels is really a very powerful funnel and landing page builder. Not only it is super easy to use for even a 6th grader but is also highly tailored to the needs of every niche and every level from a newbie to an expert agency. The advanced safety features like SSL, Piracy protection, DDOS, and more make it super reliable and at the same time, the integration features make it even more powerful for any business. From generating leads to creating profitable checkout pages and more, everything can happen in just a few hours with 400+ prebuilt templates.
Upon that there are bonuses, highly detailed and valuable courses, and then an amazing support team to guide you if you ever get stuck. And all these things at the most affordable price in the complete market. Why I would not call FlexiFunnels the best Funnel and Landing page builder!
If you still have any doubts regarding FlexiFunnels, you can book a demo call or ask your queries directly from FlexiFunnels experts. They're really supportive & are specialized in solving any online business problems.