Recently updated on October 14th, 2023
Blogs are like articles in a newspaper that inform and educate your target customer and also enhance your website's SEO. Any SEO expert can tell you hundreds of benefits of blogs. The target audience is able to determine how well you know your service or product.
You can enhance your brand's public impression through blogs that people read on a regular basis. It helps in enhancing the website engagement rate. Regardless of all the updates till October 2023, finding relevant topics that give value or address your clients' pain points is the key to a successful blog post strategy.
Blog content enables you and your company to share ideas, views, and tales about any topic on your website. They may assist you in increasing brand exposure, credibility, conversions, and revenue. Most significantly, they may assist you in increasing traffic to your website.
Writing blogs for a purpose is not an easy task. So, through this piece of content, we will talk about the best blog optimization tips.
Your Ultimate Go-To 30-Point Checklist
"Blogging is not just about writing, but about thinking, brainstorming, and innovating."
1.Type of blog to be written
There are several forms of blog writing in which you can engage. Blog writing for the purpose of blogging is not a form of blogging. First, understand the purpose of starting a blog, and then plan accordingly..
Different types of blogs as per their structure and usage.
There are many kinds of blogs as per their structure and usage, but in 2023, brands mainly use these 5 kinds, so let us talk a bit about these as well 
Educational blogs
These are the most used blogs that are written to inform people on various topics to turn them from a cold audience to a warm audience, so they are more ready to buy. Here, we don't talk about our products or services directly but just give free information and knowledge.
Promotional blogs
These blogs are completely opposite of the educational blogs. While educational blogs educate the reader with information, promotional blogs are primarily focused on convincing the customers of the efficiency of the product or service and why having it will solve their problems.
Success Stories and Case Studies
Success stories and case studies are super important blog types that are used to take advantage of the powerful principle of human behavior: social proof. This principle says that if 9 people like something, the 10th person will automatically like it, even if it is not that good.
We try to show the case studies and success stories to people so that they think that since so many people have gotten results and are praising it, it must be good.
Product/ service review blogs
These blogs are a mixture of educational, promotional, and case study blogs to a certain degree. In this blog, a person who has used a particular product or service talks about the pros and cons of the service or product in a positive light, motivating customers to buy the product based on his/her own experience.
News articles
These blogs are a category of educational blogs only, but they do not include any personal opinions and only state the facts of an event that has taken place.
Understanding each and following the structure they use is essential to getting them ranked. Now that we have covered the blog types and categories, let us go to the next important segment, which is the reader.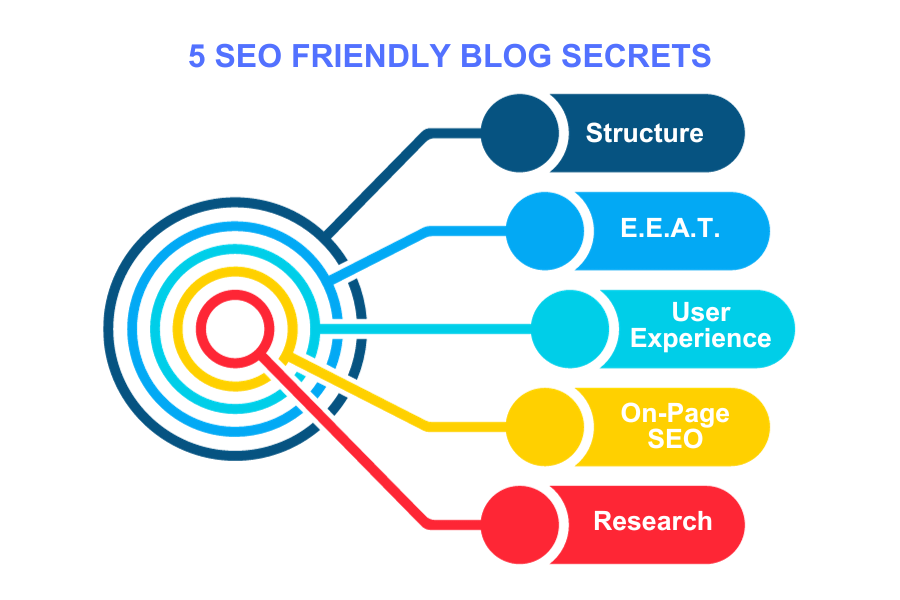 2. Target reader audience
Before you begin writing your blog content, keep in mind your target audience. This is one of the best blog optimization tips to rank faster. Market research is very important in this. It may be as easy as logging onto a social media network and perusing user and blog profiles that correspond to your target demographic.
Use market research tools such as Hubspot, Buzzsumo, Pinterest, and Quora. It is one of the best ways to start learning more about your target audience. You can also rely on ChatGPT and other AI tools designed for audience tracking and analysis.
3. The niche and the topic to be written
Many bloggers fail to monetize their blogs because of the wrong niche selection strategy. Choose your niche according to the market conditions or your interest area. The topics might be rather broad until you establish your chosen specialty in blogging. 
Whatever type of blog you create, be sure you know enough about the subject. Blogs often show authority about the brand. Rather than selecting a topic that would require research while you write, consider topics that come easily to you.
4.Target Keywords
If you are looking for SEO-friendly blog writing tips, then choosing the perfect keywords is all you need. If your content ranks well on Google, you are likely to see consistent traffic over time. The procedure begins with determining the keywords you wish to target.
Using a keyword research tool is the simplest method to do this. They display a list of suggestions depending on the seed keyword idea you provided. Many of them are completely free, like Google Keyword Planner. Some paid tools that help with faster blog ranking include:
– Ahref
– Semrush
– Ubersuggest
5. Competitors on the first page
A basic Google search is a good place to start. Examine the keywords you are currently targeting to see if there are any other companies targeting the same ones. As they are targeting the same keywords, this is a good technique for identifying your direct competitors.
The perfect blog structure to rank faster
"Structure in blogging is the roadmap that ensures your readers never get lost on the journey of your words." – Emily Davis
6. Title
When looking for the best SEO-friendly blog writing tips, the title will come to the top. The fundamental goal of the title is to attract attention. Titles must be brief and engaging. It should show that the page responds to essential user search inquiries. Furthermore, it must frame the reader's expectations by explaining the topic.
Whatever you promise your readers, it is your responsibility to ensure that it is fulfilled
7. Introduction
A good opening will catch readers and make them want to read the rest of the content. While it must provide crucial information about the role, an introduction should be kept brief.
Simply point readers in the appropriate direction and let the main text do the talking. Writing an effective introduction about the topic attracts your audience's attention. It will help your website's traffic grow. To better optimize your blog, use the main keywords in the introduction part.
8. Index
This is one of the things that I have seen writers miss many times. Sometimes a knowledgeable SEO guy adds this along with the link to those sections. This may look very simple, but adding an index is super powerful as it enhances the UX of a blog. Making it easier to read for humans. Why do you think all books have an index page??
And since Google's every algorithm update in 2023 and tool, whether it be BARD, review systems, or improved classifier update recently, are all mainly focused on making the customer experience easier, smoother, and more effective. Thus, Google loves blogs with indexes.
This can be ignored for a short blog of about 500 words, but it is a must for longer blogs, especially when you have a lot of subheadings.
9.Subheadings
Subheadings play an important role in SEO blog optimization. You may see it a few sentences above this one. Subheadings also assist in breaking up a page, increasing readability, and enhancing the user experience. They help to avoid the "wall of text" phenomenon and attract the reader's eye as they scroll through. Nobody likes reading large, monotonous blocks of text. Without subheadings, you risk losing your reader's interest.
10. Conclusion
An excellent blog conclusion should summarize what you learned in your piece and also a reminder of the amazing services provided by your brand can be mentioned in the conclusion.
11. CTA
Many writers miss a CTA in a blog, thinking it is for sales copies. The call to action is not always for sale. A blog can have a call to action to click on some link or even a CTA for comment, follow and share this blog is great for blogs.
12. FAQs
FAQs are a great tool for your blog in terms of building trust and providing a wonderful customer service experience to your blog audience. They can simply get all their important concerns and questions answered in an easy-to-read format. Furthermore, it assists you in establishing yourself as a credible authority in your field.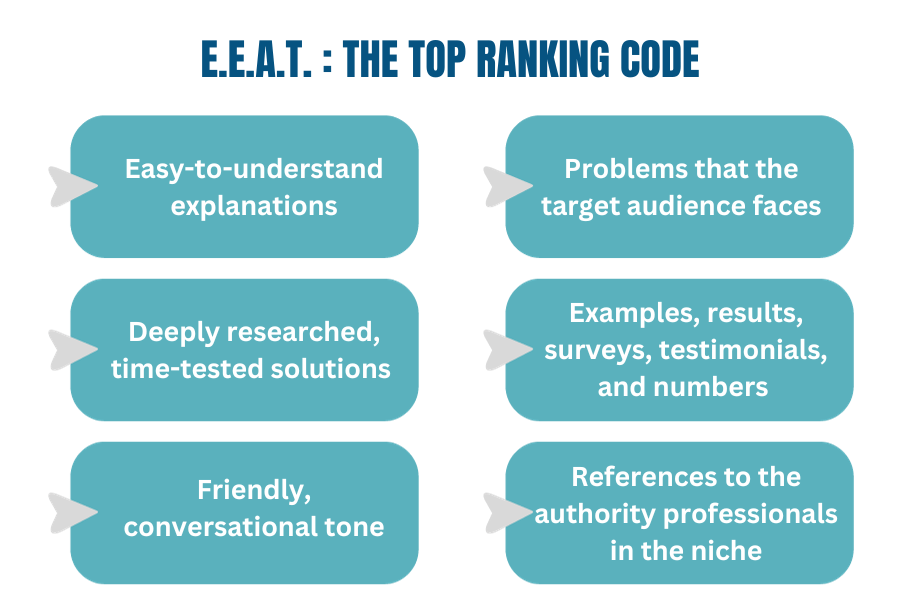 "Blogging is a conversation, not a code." – Mike Butcher
Blogs should not sound like hacker or developer code. It must feel like a conversation where the brand resonates with the E.E.A.T. This means that the blog should look like a conversation with someone, with the person showing Empathy, Expertise, Authority, and Trustworthiness to the reader. Here are some tips on how to do so.
13. Easy-to-understand explanations
The first thing is that the explanations and paragraphs should be small and easy to understand because if you can't explain something in simple terms, you're not an expert at it. Got it??
14. Problems that the target audience faces
Are you a marketer, a blogger, or a writer who wants to know the secrets to ranking their blogs on Google??
Such questions that hit the pain points of the customers build a very deep attachment. The customer thinks, "This man understands my problem and my pain so well." This builds a very deep connection through empathy, as being understood is a very underrated pleasure.
15. Deeply researched, time-tested solutions
The best blog content focuses on issues and problem-solving. It should provide a solution to a previously unsolved problem or introduce a completely new, faster, and easier way of solving an already solved problem.
16. Examples, results, surveys, testimonials, and numbers
By adding examples, surveys, and numbers, the audience will understand that the brand is highly knowledgeable and thus expert. While all are mainly talking theories,you are stating facts.
Testimonials and results will make them trust you even more through social proof or the bandwagon theory. Their minds will go like, "Others have got results, so would I." Making you even more expert, authoritative, and trustworthy
17. Friendly, conversational tone
Conversational writing has the feel of a one-on-one discussion between you and your readers. It's genuine, important, and timely. It should establish a sense of connectivity, ideally by employing language and phrases that the audience is comfortable understanding. It also avoids stodgy words and phrase structures at all costs! You use plain terms for this, not jargon or complicated ones.
18. References to the authority professionals in the niche
When you write something for the web, you're writing it for others to read. Moreover, you're writing it to establish yourself as an authority on the subject. People who read your fresh material want to know they can trust it. Also, you want to express that you aren't just making stuff up; these facts have been approved by authority figures.
User Experience for Blogs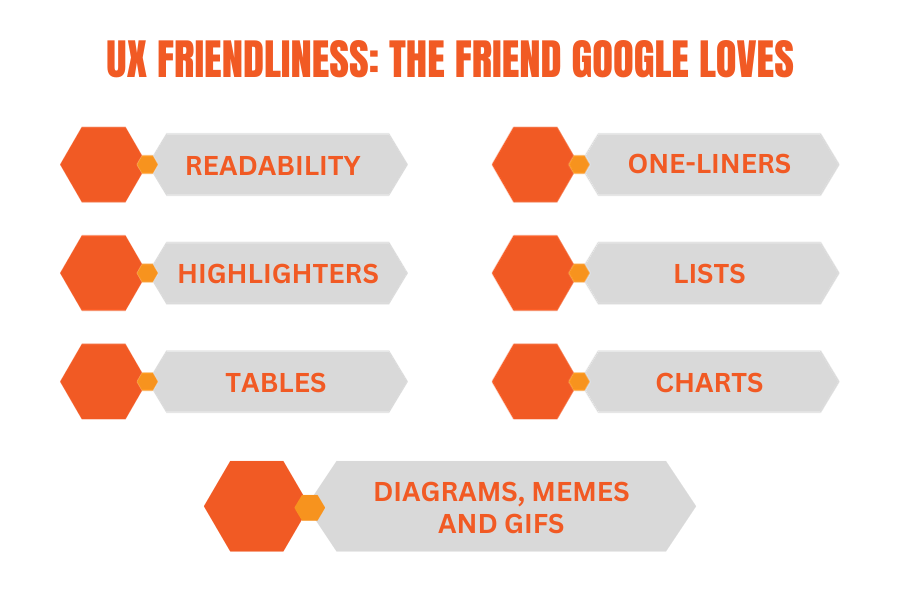 "User experience in blogging is like hospitality in a fine dining restaurant—it keeps your guests coming back for more." – Emily Davis
19. Readability
Readability describes how simple it is to read and understand your blog content. It may have a significant influence on your SEO score and determine how likely consumers are to engage with and profit from your content.
When your blog post is easy to read and understandable to your target audience, it pleases both readers and search engines. For this, you can use the Hemingway Editor app. It is free and makes your work way easier.
20.One-liners
A one-liner is a brief description of what your company does. It is intended to be brief, concise, and memorable. When individuals hear these short, catchy, and creative one-liners, they must develop a sense of enjoyment and entertainment while reading.
21. Highlighters
If you're writing a blog and come across a sentence that especially speaks to your customer, use highlighters.
Bold, Underline, Italics, Capitalization, and coloring are all ways of highlighting content. So have a list of types of content and the type of highlighter you will use for each type of content. Your highlights will be visible to your readers as they read them. They will be able to communicate with you more effectively.
22. Lists
Lists make it simpler to absorb information while writing for a broad audience. They are a common way to share information about a variety of things and also make content UX-friendly.
There are 2 types of lists, and they must be used as per their usage.
Ordered lists: These lists are best for lists in which the pointers need to be in sequence.
Unordered lists or bullets: These can be used when there is no order or sequence needed for pointers
23.Tables
Tables frequently give a good, clean arrangement of the article's material. This implies that people can see what arguments you're making and what information you're offering with just a single glance. It entices readers and is super UX-friendly.
24. Charts
A chart is a visual representation of the relationship between different data sets that uses text, symbols, and/or visuals. They are a common way to share information in a variety of venues. Charts may help individuals understand and recall information better. After all, our subconscious thinks in pictures, not words.
25. Diagrams, memes, and GIFs
Your blog is an important component of your website. It is the most effective method for adding content, targeting keywords, and increasing the value of your online site. The majority of people refer to GIFs as brief looping movies inserted into a web page.
Incorporating GIFs, diagrams, and memes into blog articles is an excellent method to represent the content in more visually appealing and engaging ways.
"A blog without on-page SEO is like a book without a title. How will anyone find and appreciate the masterpiece within?" – Mark Roberts
26. Meta Titles
Because search engines use these names to traverse the subject of your page and rank it accordingly, creating great meta titles is essential for efficient SEO strategies and ranking in organic search. Make sure to write an attention-grabbing headline along with relevant use of Keywords in it.
27. Meta Description
If you want the best tips for faster blog ranking, focus on meta descriptions. The paragraph of text that appears after the blue link in a search result is known as meta description. While meta descriptions don't directly affect your ranking, they do affect your CTR, which affects the performance and thus helps in maintaining the ranking.
28. Alt text
A web page's images are described via alt text (alternative text). When an image fails to load, alt text is shown on the website to assist visually impaired individuals and search engine bots in understanding what the image depicts.
29. Internal linking
Internal links connect relevant sections of your website's content. It's a simple yet efficient approach for me to get the most out of my traffic.
30. Backlink
An anchor text link from one website to another is referred to as a backlink. Many people put it in off-page, and they are not wrong, but backlinks in a blog increase its authority and trustworthiness and thus we are mentioning it here.
Concluding this blog, we have equipped you with a powerful 30-point checklist to make your blog rank faster on SERP this 2023. If you follow these, you can easily make your blog rank. But if you are competing with giant brands in your industry, the overall authority and SEO optimization of your website do come into play, so work on your overall website as well as your blog. Some may say that this is too much to do for a blog, but remember what Thomas Mann has said:
"A writer is someone for whom writing is more difficult than it is for other people."
So behave like a writer and put in all the effort. See you soon with another blog. Until then, best of luck with your SEO.