Search Engines play the main role in bringing traffic to your website. Google has the maximum market share globally. It is the most used search engine. But there are other players in the industry, too. To begin with, it is useful to know what a search engine is.
In simple terms, a search engine is a tool or technology that enables people to look for different things on the internet. As a user, you type a keyword or key phrase in the search engine. You press the ENTER key and a series of relevant results is displayed.
The results are links of different websites. The website is has the highest rank in the search engine is displayed the topmost position. There are multiple pages full of results. You can click a link that seems suitable and gather information.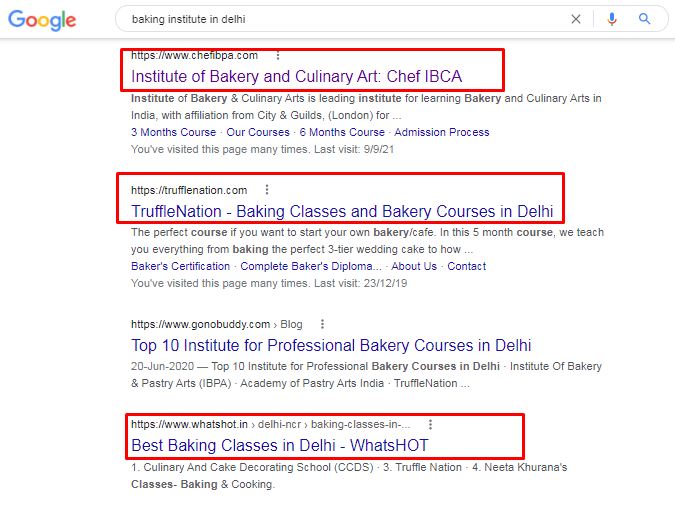 An overview on the importance of Search Engines
It is a fundamental question you need to address. When you are aiming to rank your website with good SEO practice, it is important to understand the functionalities of a standard search engine.
A search engine is important to collect different types of information about different web pages. The information can be of any nature.
A search engine is also very important to properly categorize different web pages. It tries to remove the clutter from the ever-expanding internet.
A search engine makes it easier and much more convenient for you to find web pages meeting your needs.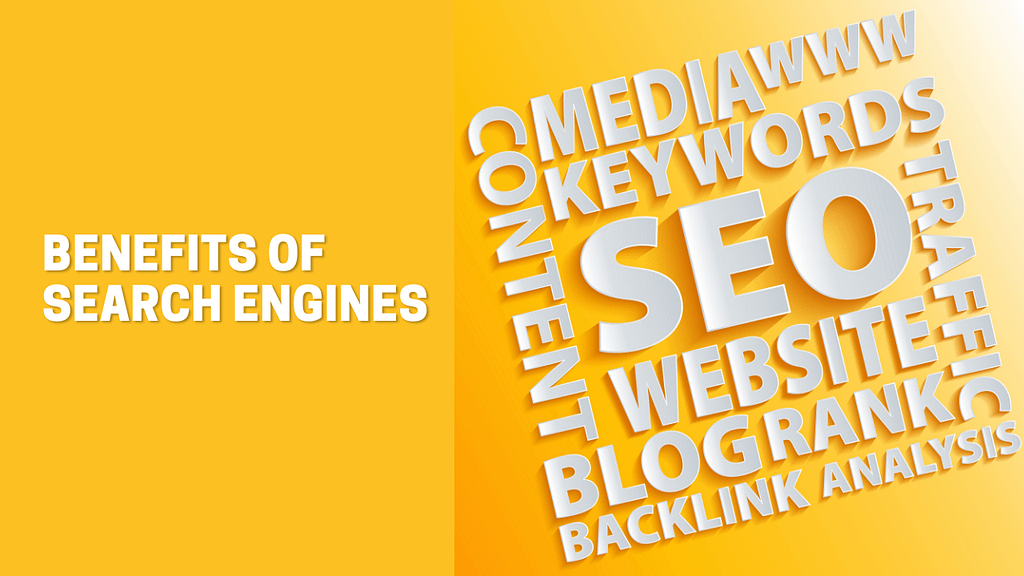 Benefits of Search Engines
Particularly, there are 5 broad benefits of search engines. As a user, you can avail the benefits simultaneously. Also, when you are planning your SEO strategy, it is important to keep in mind the following benefits.
Saving your precious time: When you can use a search engine, there is no need to search for information manually. It certainly saves time. Also, searches at high speed help you.
Getting relevant results: You get relevant results from your search engine searches. There is no 'beating around the bush'. The results are exactly what you want.
Free accessibility: Practically, you don't have to spend anything to use a search engine. The access is absolutely free. There is no cost involved. You can use it at any hour.
Comprehensiveness: The search results are not only relevant, but they are comprehensive, too.
Advanced search feature: There are filtering options in most of the search engines. They provide you with features to narrow down results through advanced searches.
How alternative search engines can help your SEO
By now, you might be wondering about the ways in which alternative search engines can help you in SEO. Precise explanation will make it clearer and simpler for you.
Bing:
Bing is a fantastic alterative search engine. It is effective due to following reasons:
It has much lower competition
The SEO practices you set for Google are applicable on Bing, too
It leverages Yahoo
It offers an array user-friendly free webmaster marketing tools
It has a high-quality traffic
Yandex:
Yandex is a Russia-centric search engine. Nevertheless, it has its impressive attributes:
It is flexibly integrated on the Android platform
Its algorithm is effective in countering spam
DuckDuckGo:
There has been a slow yet steady rise in the popularity of DuckDuckGo search engine due to its interesting features:
It is a search engine completely focused on the privacy of the user
It does not track user behavior
Sites reached from DuckDuckGo have lower bounce rates
The ads tailored on DuckDuckGo are based on the results a user 'currently' views
It give huge preference to sites with high-quality backlinks
It is very straightforward to implement SEO strategy on DuckDuckGo
Why you should care about other search engines: a look at the current Search Market
Data reveals several things that can prove to be beneficial. When you extract insights optimally from recorded data, you can frame strategies and move your business forward.
There is no doubt in the fact that Google is a tremendously dominant player in the industry. It has 92% market share that overshadows every other search engine. But, it doesn't mean you will not focus on other search engines. The combined market shares of other search engines are 8%.
When you compare 8% with 92%, it seems a small figure. But consider billions of searches happening each and every day. In such a context, 8% is not at all a negligible figure. If you can tap the hidden potential of Alternative search engine for SEO, your business can significantly benefit.
Different Types of Search Engines
It is now time to dive deeper into the conceptual premises of search engines. This section precisely tries to concentrate on different types of search engines.
Search Engines that are Crawler-based: In web terms, crawling means skimming each page of a website. The purpose of crawling is indexing the content. The tool that the search engine uses for crawling is called a bot or spider or simply a crawler. It is integrated within the working dynamics of the search engine.
There are four basic steps.
Crawling: Fetching the web pages available for a specific search
Indexing: identifying words, terms or phrases describing the web page(s)
Calculation of Relevancy: the algorithm calculates how relevant a page is
Retrieving the results: displaying the most important results in a browser
Top example of a crawler-based search engine is Google. There are many more.
Directories that are Human Powered: The other names for such directories are Open Directories or Open Directory Systems. The working dynamics of the directories depend on the human-based activities for the listings.
Such category of search engines is almost obsolete nowadays after the establishment of automated search engines.
Search Engines that are Hybrid: As the name suggests, the Hybrid Search Engine combines two different methods mentioned above. There is a crawler, along with human indexing. The working dynamics is a balanced form of the two technologies.
Other Search Engine categories: There are other types of search engines that use special bots to display a wide range of content materials. Some of the bots use meta- information of web pages. There are Semantic search engines that focus on contextual meaning of search terms.
The functionalities of search engines are becoming more advanced very fast. In future, there can be more categories available in the market.
How do Search Engines work?
At its core, there are complex technical aspects associated to a search engine. But, keeping your approach simple to understand the functional dimensions of a search engine is wiser.
A search engine crawls billions and billions of web pages on the internet. The crawlers are search engine bots. They are also termed as search engine spiders.
Web pages that a search engine crawler navigates and locates are organized in a data structure. The data structure is called an index.
The index is constructed based on the keywords, freshness and user engagement of the content.
The search engine algorithm arranges the web pages in forms of high quality search results. The results try to perfectly address a query of the user.
After getting the relevant search results, the user clicks on one of the links to find the answer he is looking for.
Short History of Early Search Engines
Archie is the name of first search engine, became functional in 1990
In 1991, the World Wide Web VLib (Virtual Library) was set up
In 1992, a search engine named Veronica was able to search various file names
In 1993, the World Wide Web Wanderer was able to capture URLs
Primitive web search was prevalent in 1993
Infoseek allowed to submit a web page in realtime in 1994
Yahoo Search took birth in 1994
In 1994, WebCrawler came into existence, able to index entire pages
LookSmart came into existence in 1995, competing against Yahoo Search
In 1995, AltaVista was the first search engine that allowed Natural Language Queries
In 1996, BackRub came into existence (marking the beginning of Google)
The search engine Ask.com was launched in 1996
1998 witnessed two big launches – msn.com and google.com
In 1999, Google got funding from Sequoia Capital and other big investors
In 2002, Yahoo advanced its search dynamics
In 2003, Google released its update termed 'Boston'
2004 witnessed MSN launching its brand new search engine
In 2005, Google, Microsoft and Yahoo started technology centering 'nofollow links'
2006 witnessed Microsoft launching its Live Search Product
2007 witnessed Google changing its SERP for good with the 'Universal Search'
In 2008, Google released 'Google Suggest'
2009 witnessed rebranding of MSN into Bing
In 2010, Google came up with the application of Google Instant
2011 witnessed Google, Yahoo & Microsoft collaborating to create schema.org
More updates from Google's 'Penguin' compelled general SEO to be revisited in 2012
The 'Hummingbird' algorithm was invented in 2013
In 2014, a Google update termed 'Pigeon' was developed for accurate local searches
2014 also witnessed the establishment of 'HTTPS' as a ranking signal
2015 witnessed Bing releasing its algorithm update that is mobile-friendly
2015 also witnessed release of Google's machine learning algorithm called RankBrain
Google's 'Possum' algorithm began to penalize spammy websites from 2016
Google began to punish sites with low quality backlinks from 2017
Ten Top Quality Search Engines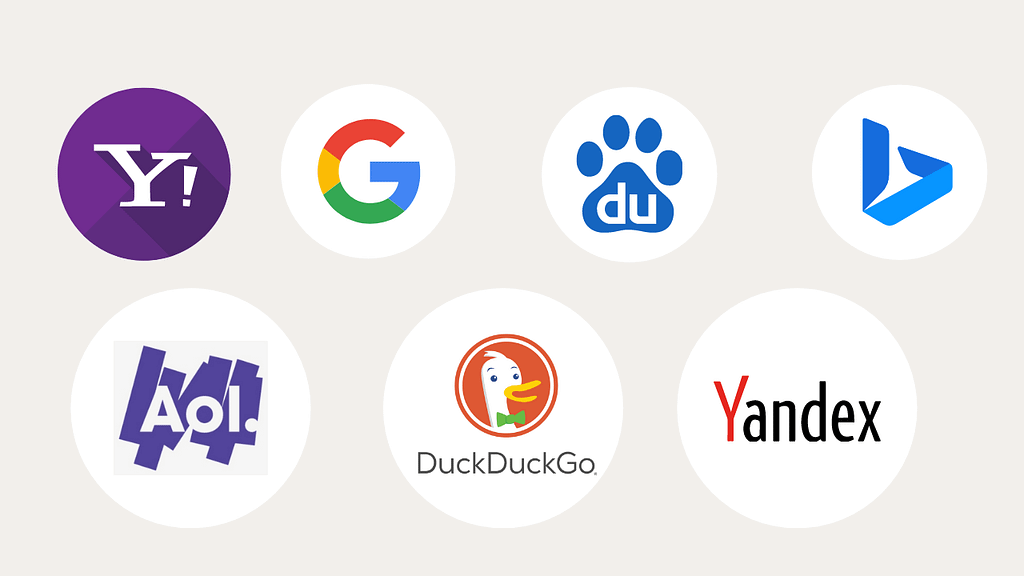 There are some incredibly efficient and strong search engines on the internet other than Google. Here is a list of 10 such reliable Search Engines:
Bing
Yahoo
Baidu
AOL
Excite
DuckDuckGo
Yandex
Lycos
Wolfram Alpha
Why people Are (slowly) Moving Towards Alternative Search Engines
People across the globe are gradually changing their preferences to other search engines. They are ditching Google. There are some valid reasons behind such a phenomenon.
Google has almost become notorious to store every bit of user information. Many search engines don't do it. There is more liberty in this context.
There are other search engines in the market that don't track you and record personal IP address. Google does it. As a result, people are slowly moving out of Google.
In recent times, Google has been displaying too many ads to the users. It is a deterrent to good user experience on its platform. You just got another reason to ditch Google.
It seems Alternative Search Engine for SEO will be the buzzword in the future, mainly due to its simplicity. Google is regularly changing its algorithms and making it more difficult to implement SEO strategies.
Preferred Search Engine via SEO Professionals
In last couple of years, the SEO professionals of various companies have been vouching for the search engine DuckDuckGo.
The search engine gives top priority to the privacy of the user. It does not compromise with any element related to your privacy on the internet. You enjoy ample liberty to search whatever you like on the platform. The marketers are unable to capture your search preferences and frequencies.
Aggressive advertising is another huge factor that people are shying away from Google and preferring other search engines. The excessive advertising on Google's search engine platform can be very nauseating at times. It is not the case when you use DuckDuckGo. As an average searcher, any individual could breathe more on the platform.
Many consumers / users are concerned with the aspect of search manipulation nowadays. The objectivity of Google has been wayward in this context, especially in recent years. The search results on Google are corporate-sponsored most of the times. The number of organic search results is limited, too, due to more number of paid searches and snippets.
Google has been accused several times by various concerned authorities of misusing and selling consumer data. It is a very serious issue. A search engine like DuckDuckGo doesn't misappropriate data. There is a well-defined assurance. Your data remains safe and secure.
Why do we need to promote on alternative search engines also?
There are some concrete advantages of promoting your website/service/product on alternative search engines. Google should not be your only focus.
Keep in mind the fact that the target audience of your business does not consider Google as the primary search engine platform.
The reasons why you need to promote on alternative search engines:
Less competition for certain keywords
Some search engine platforms don't require any complex SEO technique
Can save you more time in context of applying SEO strategies
SEO results can be quicker than your expectations
Availability of a fresh stack of webmaster tools
Your website can gain additional traffic
Targeting audience from particular countries can be a lot easier
Significantly lower CTC on ads when compared to Google
More control on user privacy
Less updates over time, resulting in less adjustments in SEO
Pranav Jha is an expert is designing and implementing SEO strategy for your website on platforms of alternative search engines. He has many years of experience in the digital marketing field.
You can consult him to promote your website on alternative search engines, leveraging suitable SEO strategies. It would keep you ahead of your rivals in a competitive environment.
Benefits of promoting on other search engines
The specific benefits have of promoting your business on alternative search engines have been discussed in the previous section. Still, there are some other benefits you should know.
 The chances of improving your revenue margins grow when you opt to promote your business on alternative search engines. Also, it creates more goodwill for your website.
The visibility of your brand improves, too. The logo and caption (if any) of your brand reach newer avenues in the digital space. It results in more brand awareness.
Conversion rate on your business can significantly grow, too. There would be a chunk of traffic from alternative search engines showing interest in your products or services. You can leverage it accordingly, to your benefit. It would result in more recognition to your site.
Why find an alternative to Google for SEO?
An Alternative search engine for SEO is essential, thinking beyond Google, in order to:
Pull more traffic from the web
Implement SEO in a more convenient and simpler way
Spend less time implementing SEO strategies
Spend less resources to rank on paid ads
Not bother about the frequent algorithm updates of Google
It is hoped that you have gained some basic insights about the importance of alternative search engines in the digital space. In coming days, industry experts tout some of the alternative search engines to snatch a bit of market share from Google. If you remain prepared in SEO for those search engines, you can strike gold!