Recently updated on July 22nd, 2021
In PPC advertising, there are a few distinct keys. One works to optimize the placement and targeting of advertising, but only with the main factor: using Google account structure and Google adwords account structure.
It is not as scary to establish a Google Ads account structure as it may seem. Yes, the interface with Google Ads can be sometimes difficult to use, but the step-by-step tutorial will take you through all the necessary steps to build a well-structured account. Also note that your account structure is not permanent and will probably alter and evolve over time.
What is account structure for Google AdWords?
Account organization is the organization of campaigns, advertisers, advertisements, keywords, and other techniques to enhance reporting and to facilitate change management. There is no magical unicorn structure, as the accounts of Adwords differ by size and industry.
It's easy to grasp the basic architecture of your AdWords account. You have your AdWords account, where your campaigns are based, and where your ad groups are located. Your campaigns are the many targets you attempt to achieve with your advertising and your ad groups are the various ways to achieve these goals, such as using the Google Display Network or the Search Network.
The aim of your Google account structure is to determine how best to employ different ad groups in different campaigns, in a segmented way to ensure that you efficiently target the appropriate individuals for the right purpose. Without a solid account structure, the aims of distinct ad groups inside different campaigns may easily get muddled and it can make it tougher to manage individual advertisements.
For example, it's much easier to identify it and delete it if you want to remove a managed placement from a showing campaign, or a poor search ad.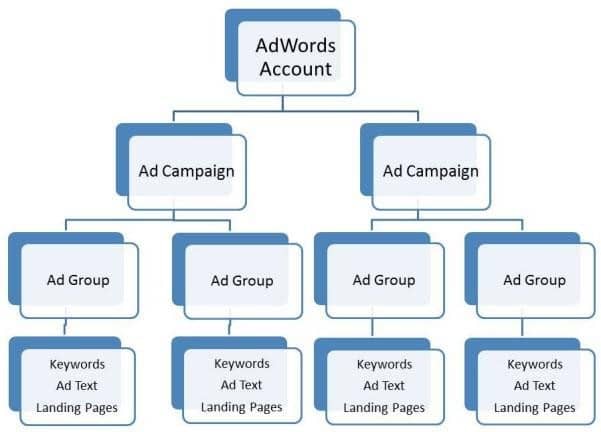 Accounts should be optimally separated, such that they are not too huge or too tiny. Too tiny and less separated reporting and optimization and change management will be affected. Too big and it takes much longer for changes to happen. – and to fulfill your advertising objectives, less productive.
Why Is Google Ads Account Structure So Important?
Let's step back – what does the account structure actually mean and why is it so important?
The way you organize your Google Advertisements account enables you to manage how and when your ads are activated. Not having a well-structured account is like trying to drive a car, which is not designed correctly – there are accidents. Please remember that you will have a well-structured account:
Ensure your publicity search is relevant to your public.
The outcome is higher quality results, leading to greater performance and cheaper pricing.
Maintain your organization and optimization. If your account is a mess, then your results will likely fall and be optimized in order to get better results. Therefore, remember your company (and your own health) when your accounts are structured.
The 6 Critical Components of Google Ads Account Structure
Before we start thinking about starting, it is necessary to grasp each component of the account structure fully.
Campaigns: Without a really big account, you will usually have only a few campaigns dealing with wider topics. Each campaign will include ad groups that comprise keywords connecting to and directing to your text advertisements. I usually propose that you decide on the subject of the campaign based on how you split your marketing budget when you set up your campaign budget.
Ad Groups: You build appropriate ad groups, which are considerably more specific, under each campaign. No suggested amount of ad groups may be used in a campaign, but usually it is more convenient not to go overboard, as it will spread the money for your campaign over so many ad groups, keywords, advertisements and landing pages. Ad Groups include keywords (no more than 10-20), which activate your text advertisements (2-3 per ad group) and subsequently link them to a corresponding landing page.
Keywords: Keywords will fall within each ad group to regulate how your ad is activated. If somebody puts a "search query" in a search box in Google, this search is a term that then activates an ad. It is essential that you perform comprehensive research on keywords, have a clear knowledge of match types, and use the time to improve and optimize your keyword approach.    
Negative Keywords: These advertisers are mostly neglected, but it's crucial to build on them so as not to waste money on irrelevant queries. In particular, if you use broad-based match and/or changed broad-based keywords, you will most often find certain search queries entirely unrelated that match your keywords and advertising. Continue to develop your negative list of terms and review your search query report for additional negatives.
Ad Text: This is the wording that appears on the trigger of your ad. Each ad group should contain 2-3 advertisements for each ad group to the same page for each ad group. To get your advertisements authorized, test your ads A/B over time, and properly show the advantages of your search results for a competition, Adword's rules are crucial.
Landing Pages: We have landing pages, last but not least. The place where every ad directs the search engine (likely a page on your site with an offering or call-to-action). I advise you to be really strategic with your landing sites so that each ad is sent to a very relevant website that not only contains the keywords in the SERPs, but also the ad text displayed in that ad group. The relevance and optimization of the landing page are essential for PPC success. 
Now that we have covered the basics, let's get into the nice stuff of what you need to do when your account is being developed. You can start establishing an account if you're entirely new to Google Ads. This section should be rather self-explanatory, however if you need help follow this tutorial.
Tips for good account structure for Google AdWords
Hopefully, you will understand how your account is constructed and how each campaign is based on a certain number of distinct ad groups. But how are you well structured?
Spend Time Deciding How You Want Your Account to Be Structured
This is a frequently asked question: What is the ideal paid search account structure? Fortunately, there are a few viable options:
Based on the Structure of Your Website: How are we structuring your web site? Do you have various tabs or pages for various items or services? Do you regard product pages differently than others? If your website is (which should) structured, your Google Ads account should be structured in a similar manner.
Based on objectives: The various sorts of campaigns are ideally suited to different types of marketing aims and techniques. A search network campaign is only designed to target people seeking their unique products and services. If you are interested in building brand recognition, only campaigns on Display Network may be the ideal way. This helps you estimate how much funding you should contribute to the campaign, depending on the crucial different strategies.
Based on Locations: Is your business location important? You may be a legal office with several offices across New British City or you may be selling development courses from London to Tokyo in key cities. The structure based on this is crucial if targeting of locations is important. For instance, build a campaign in London to promote your development course to just people across the city. 
Based on location and language: Keywords, copy of advertisements, and more will change according on where your ads are being targeted. If it is vital for your firm to target multiple areas, build distinct campaigns for different locations, even if your whole objective is same.
So you've created a lovely paid search account structure with campaign themes and ad group subjects. Now it's time to populate those ad groups with keywords, but how do you decide which ones to use? Maybe simply picking terms that sound relevant at random? You must conduct extensive keyword research to ensure that you are selecting terms that are not overly competitive, have low quality scores, or have a low search volume. 
Start by passing every ad group in an Excel document, and maintain an ordered list. Then utilize the Keyword Planner or WordStream Keyword Tool of Google to identify the appropriate keywords for each ad groups.
Google reacts in the same manner when too many keywords in an ad group – it is just too crowded, and there are little or no possibilities to acquire visitors and results from every term. You also need to employ a variety of match kinds, so that each match type may be made more restricted.
Once you have a list of keywords, it's time to dig in and start constructing for each ad group.
Create Your First Ad Group & Text Ad
You need advertisements to successfully execute your campaign. As we did before, advertising are attached to a list of keywords in an ad group, so first we need to establish a new ad group. You will notice the "Group Ads" tab and the red Add Group button on the campaign tabs on Google Ads. Select that to title your first ad group and refer to your prior work. You will next have to make your first ad, as an ad group will, of course, not be allowed to run unless at least one ad in this group is present. To begin with the production of ad text, remember the following tips:
Character limit: If you over your character line, Google will simply warn you, however the headline of the ad may have two thirty heads, one aggregated line describing the 80-character, and you need not worry about your target URL which is derived automatically from your last address (although you can customize the URL path).
Relevance: The keywords in your ad text and the text on which the ad leads must be reflected. You will not be clicking the ad if you're bidding for a generic word such as "tennis shoes," your ad reads "Women's tennis shoes." In the headline and description sections of your ad content, present your target keywords clearly.
Best Practices: I won't go through all best practices in ad content, but there is so much to do to attract a competition to notice your ad. For example, the use of the period of time at the end of each line (this swoops line 1 in the headline when the ad shows at the top of the page is likely to enhance CTR), the capitalization of each word, and the list moves ahead in special offers with numbers (persons love numbers). There's a lot of stuff out there and look at our different studies and publicity texts best practice posts.
Follow Google's Ad Approval Guidelines: You don't want to disapprove of your ad, trust me. It's not the world's end, but performance can be adversely affected, advertising can be delayed and definitely not Google's satisfaction (remember, you want to be tight with Google). Check out the following typical grounds for ad rejection and prevent such reasons such as the plague.
Direct to the Most Relevant Landing Page: In an ideal world, landing pages for each running set of ads are already prepared. This is one of the best practices of many ad groups. I'd spend some time and resources on building specialized ad group landing pages, otherwise. This might sound silly, but if the search engine's landing page does not apply to the ad clicked, then they are quite likely to bounce back to Google.
Add the Relevant Keyword List into the Ad Group
You will notice a white box called "Keywords" on the same screens, where you wish to add a keyword list that has already been established. In addition, this list should be brief and highly important to the ad content and landing page to which people are referred (no more than 10-20 keywords).
Be aware that additional keywords are introduced on a wide match by default. Use the designated punctuation to describe match types; for example, use quotes around a keyword sentence, brackets to specify a [exact match] plus +specify + modify +broad and wide keywords may be added as simple as possible.
Once you have generated a set of advertisements and keywords previously, go to the left sidebar to add more keywords and then go to the 'Keyword' tab and then pick the '+Keyword' red button.
Create One or Two More Ads in Your Ad Group & Adjust Ad Settings
You now need at least one or two additional advertisements to make it all running in your first ad group. To compare results, you would like to run a minimum of two or three advertisements in each ad group. Your advertising should be comparable, but just slightly different – possibly placing a different call-to-action or emphasizing a different important point in each ad.
You may test your publicity and discover what's in resonance with your audience. Keep in mind that you still want to track the bullet points in #4 about ad content, but that every ad has always changed so slightly.
To create a new ad you first want then pick the ad group that you have just established in the "Campaigns" area of your Google Ads account and to browse to the ad tab. Choose +Add from your new text ad and start.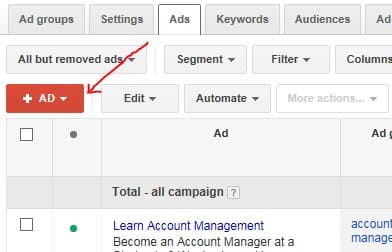 Once you've generated all of your advertisements for that ad group, go to the Campaign settings by clicking the campaign on the left hand sidebar and then selecting settings. Then you'll see "Delivery method" – this determines how you want your advertisements to appear in the SERPs. To avoid spending your money too rapidly throughout the day, make sure your advertisements are served through regular delivery.

Benefits for Organizing Your Adwords account
Good management of campaigns may help you adapt rapidly, target your ads efficiently and eventually achieve your publicity objectives. 
Account structure is crucial as the simpler management, reporting and changes will enable you to get better outcomes. It requires considerable experience across different sectors to make sure that you design an optimal structure for each account. I hope this tutorial will help you go from fundamentals to how you arrange your accounts.
Good account structure lets you change quicker and more effectively target your advertisements. You receive more than simply an account that is easy to maintain and arrange by establishing properly structured campaigns based on subjects, products or services.
You will have sets of closely relevant advertisements and keywords to assist enhance your quality scoring. You may receive more for your funds with a better quality score.
A well-structured account comprises of distinct camps, general topics and services for each of your product lines. In turn, each campaign has narrowly focused advertising groups focused on one particular product, service or topic. And each ad group should have certain keyword lists directly related to the related ad content.
With a well-structured account, you can:
Determine whether advertisements provide best conversions and traffic (such as sales or leads).
Easy monitoring of changes.
Better budget and expense control.
Quickly locate certain terms.
Ease your campaigns to manage and update.
Don't put up your feet just yet! It's time to do it all over again. As previously said, you'll need a few ad groups each campaign to spread out the appropriate keywords across the campaign theme's subsets. Return to your account map, which we established at the start of the build-out, and continue to improve your fantastic account structure.
Want help with your AdWords account structure?
Optimizing the structure of your account can take time, and it is best done with the unique demands of your business in mind, as well as which techniques you need to employ. AP Web World's (Managed by Team Pranav) Ads expert can help you improve existing account structure or set up a new account from scratch, making future campaigns much easier to track and administer. Contact us immediately to transform your company into a lean, mean, organised advertising machine.