Recently updated on July 10th, 2021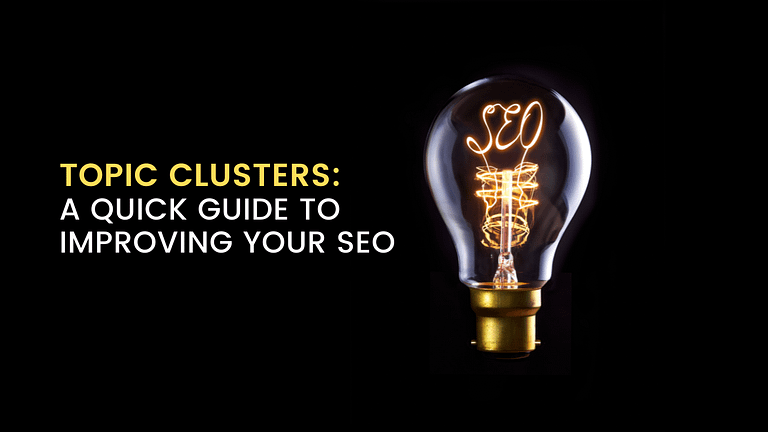 Want to show Google that you're an authority on a certain topic? Then you should make topic clusters your go-to content marketing strategy.
The year is 2021, and SEO has progressed once again. As you read this, Google is very likely tweaking its algorithm even more, and subject clusters are on the horizon. Yeah, I know, What are topic clusters? There's another another SEO method to learn!
But here's the deal: as we enter the new year, topic clusters will remain the rock 'n' roll star of SEO. They can help you become noticed by displaying your knowledge in specific areas. While creating a content strategy based on these clusters may seem intimidating, if done effectively, it will place you on the fast track to the top pages of Google.
The good news is that mastering subject clusters isn't difficult. The second piece of good news is that everything you need to know will be covered right here.
We'll walk you through every stage of the topic clustering process in this post, from ideation to final implementation of your own topic clustering method.
A subject cluster is made up of several pieces of information that are all connected to one another in some way.
For example, if the major topic is SEO, a subtopic may be obtaining backlinks, and another may be voice search optimization or image SEO. All of these subjects are interconnected and are part of the same larger picture.
What is the aim of it all? For starters, Google and other search engines prefer in-depth and topic-based material versus shallow content filled with keywords just for the sake of ranking.
Furthermore, search engines want you to provide greater value, knowledge, and consistency. A subject cluster allows you to develop more thorough material to educate your visitors on a certain issue. Topic clusters, when used correctly, may help you organise your material in a clean manner, and Google like to scan websites that are simple to traverse. "Bingo!.
Anatomy of a Topic Cluster
So you've got the big concept, but you're having trouble seeing a subject cluster. Take a look at one of them, for example:
Pillar page– All subject clusters begin with a pillar page, which is the main topic. This is a page dedicated to a broad topic, such as digital marketing. This pillar page should have long-form material and be thorough and informative. It might be a 'how-to' guide or a 'ultimate guide,' for example. It should be simple to read and well-organized, with subheadings and connections to relevant themes and websites.
Content clusters–  A content cluster is an article that supports the pillar page. It must always connect back to your pillar page and be relevant to the content of your pillar page. It can be shorter and less in-depth, but it must still be well-organized and understandable to humans and Google. Let's imagine one of your pillar pages is Digital Marketing 101: A Beginner's Guide to Digital Marketing Terms. An article on social media marketing, which is a subset of digital marketing, may be a content cluster.
Hyperlinks– Hyperlinks are the last piece of the puzzle that connects your subject groups. Basically, you need to include an internal link to your main page from every single content cluster so that Google understands they're all linked. By connecting many internal sites like this, you're demonstrating to Google that you're an authority on a certain issue.
How Do Topic Clusters Influence Your Search Position?
Topic clusters aid Google's understanding of your site's content. This is significant because, over time, search engines have moved their attention from keywords to pure value and expertise.
You gain more authority and show Google that you have the high-value content that your readers and clients are seeking for by developing subject clusters. The more value you provide, the more visitors will trust your website — and the higher Google will rank it as a result.
It's also important to make your site structure simple and easy to comprehend, since this will assist Google crawl and index your site more quickly. Furthermore, when it comes to improving internal connections, subject clusters might be the genuine thing. It helps you to start obtaining a lot of organic traffic once it's done correctly.
Does it seem too good to be true? Take a look at the following examples of topic cluster pages that generate thousands of organic visitors per month:
How to Build a Cluster Content with Pillar Content with example
Many content strategies fail because they do not consider the domain's content ecology. This essay delves into how I go about creating Cluster and Pillar content.
Cluster material was crucial, and it helped me achieve my first success. I performed keyword research in the area where my pillar material was located ( main keywords or services ). I came up with ten ideas, and the team came up with a blog post on each of them. The topics were good, but the results were unexpected. Where I expected traffic, it didn't come, but a blog with zero search volume keywords started bringing me traffic, and then I started working on the quality of more blogs that were lacking in rank, and all of these cluster topics have given me a huge boost to my pillar topics and keywords .
Although I have yet to create a link on that cluster issue that has begun to generate results for me, it has gradually assisted me in developing a strategy for my service-oriented site. When properly implemented, this sort of strategy ensures that each piece of content helps to increasing your authority, trustworthiness, and competence in the eyes of search engines.
Here, based on my expertise, I'll offer subject cluster examples for a better and clear comprehension, so let's get started.
Consider the topic of "resume writing services." A foundational piece of information on "how to develop a catchy Resume and why do you require resume writing services" would be excellent. Supporting content, such as the following, may be added to that page:
Resume writing services in Delhi
Resume writing tips
Resume writing services near me
How to make eye-catching resume
Why choose resume writing services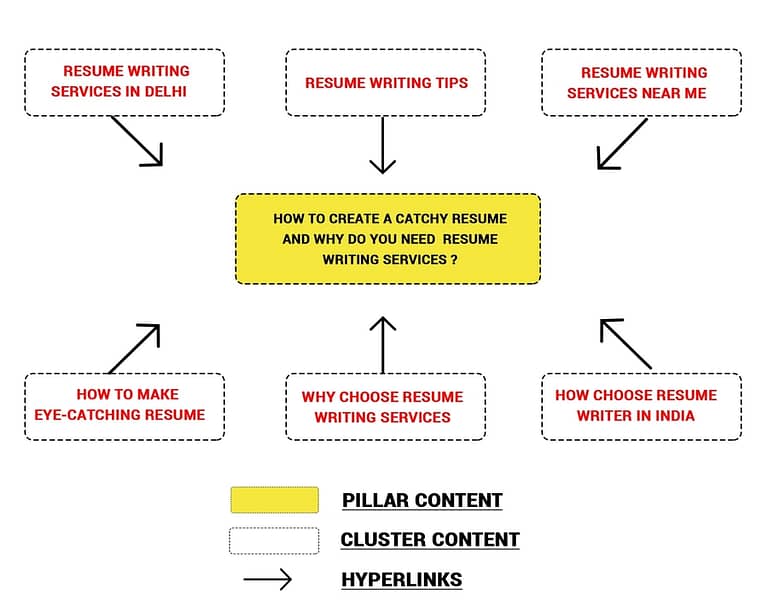 Topic clusters are focused on more narrow keywords with lesser (attainable) search counts, whereas pillar content is centred on a wide term with a large search traffic.
The importance of sound interlinking cannot be understated.
Google is aided by your internal connection system in understanding:
The relationship between the pages.
The value of the pages.
The relevance of the pages.
The main goal of employing subject clusters is to provide a good knowledge of your website to search engines. As you connect your topic clusters, it should all flow into your pillar content expertise.
Topic clusters are an effective approach to boost your content marketing and SEO strategies while establishing yourself as an expert on specific themes. Creating subject clusters will, of course, necessitate assembling a small army of content strategists and writers, but with a solid team in place, you'll be able to quickly do research and ace those clusters!
If you want to rank your company, please contact us at www.apwebworld.com. We are here to help you rank your company and develop a brand. Our SEO experts have a lot of expertise turning your internet business into lead generation solutions. AP Web World's white hat techniques have a lengthy track record of success, resulting in top SERP rankings for clients all around the world.