Keyword Research is one of the most important tasks for optimizing your web pages and drive traffic to them from search engines. It helps in developing an effective content strategy that you reach the right audience and drive more visitors on a consistent basis. If you are looking for the best keyword research tools then you are in the right place.
Even though there are both paid and free keyword research tools, the data you would get from the free tools would be less compared to the paid tools. Irrespective of whether you are using a paid or free tool, you need to remember that you should never solely rely on keyword research tools for search engine optimization.
Understanding the intent of the search term is the most important thing before you get started with keyword research. You need to focus on driving relevant traffic depending on the type of keyword so you need to understand your audience before actually proceed with keyword research. This helps you in ranking the specific web pages for the right keywords.
Now let me share with you the best free keyword research tools:
1. Keyword Surfer Browser Extension:
Keyword Surfer is a browser extension by the SEO suite Surfer SEO that wouldn't just tell you the search volume but you can gain insights on various other aspects like the CPC of a keyword, related keywords, and search volumes that to country-specific.
Just type in the keyword and select the country where you want to know the volume of that keyword.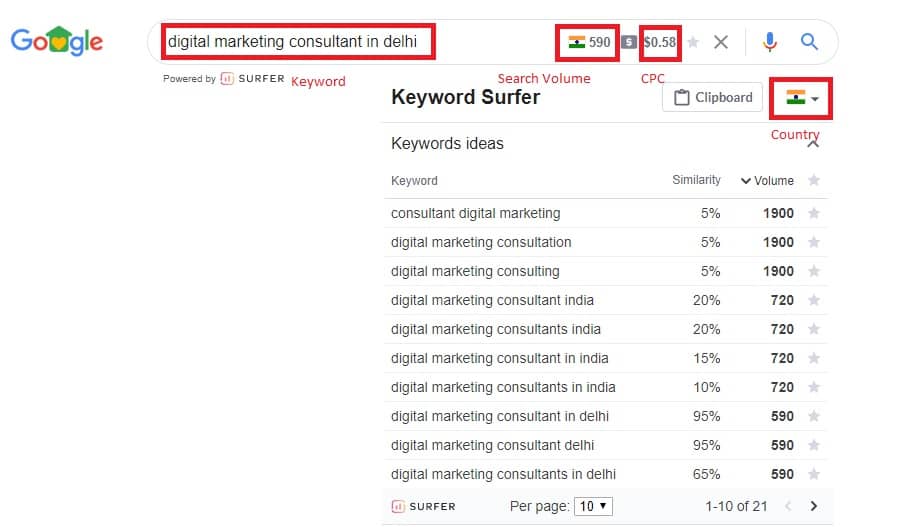 Additional features of this tool are that you get a similarity score that makes it easy to pick the relevant keywords that are similar to the search term you have used for searching. Clicking on the star icon you can select the keywords to copy them to the clipboard while making a search on google so that you can save time on preparing the keywords lists.
Correlation Charts:
These are highly useful to have a glance about the web pages ranking in the search engine results page for a particular term. There are three parts;
i. Traffic Chart: The estimated amount of traffic driven to a particular result.
ii. Word Count: Number of words present on the web page.
iii. Keywords: The Number of times the keyword was used on the ranking page in places like title, body, etc.
Keyword Tool is a unique tool for getting unique keyword ideas not just from Google but from other search engines like YouTube, Amazon, Instagram, etc. You can use it for free to get the keyword suggestions and copy from there
For example, I have typed in a keyword "digital marketing consultant in delhi ncr". You can see the search volume of that keyword, trends, CPC, and competition of each keyword for the exact keyword but you need a paid plan for the entire data to unlock.
Some of the best features included in this tool:
Filter Keywords: If you are looking for keywords ideas that have a particular word then this feature would be highly useful instead of random brainstorming.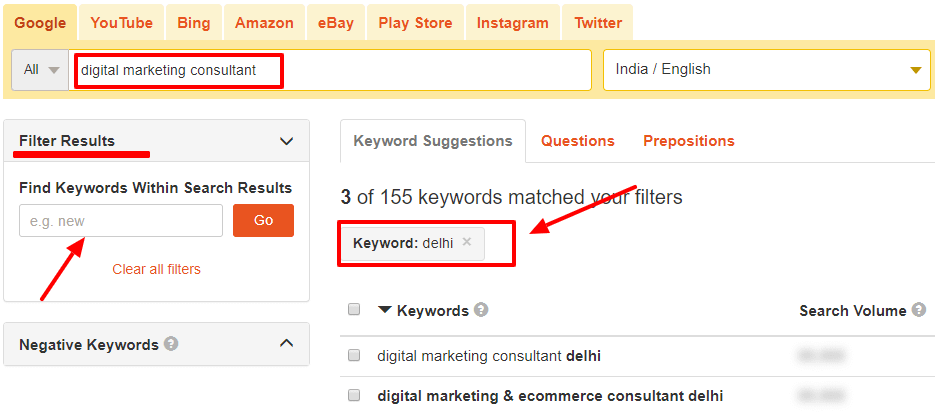 Here I have made a search for "digital marketing consultant" and applied filter with the term" Delhi". So this helped in filtering three keywords with the term Delhi and understanding what keywords are being used by people for finding a" digital marketing consultant in Delhi " instead of scrolling through the entire list of related keyword ideas making it easy.
Negative keywords:
This is also a good feature that helps you find keywords that are not using a particular term just like a filter but functioning in an opposite manner because there is a higher chance that people use a term that is not at all related to your topic when they have a different intent.
For example, here I have used this feature to eliminate the keywords with the term "Jaipur" in the keyword suggestions.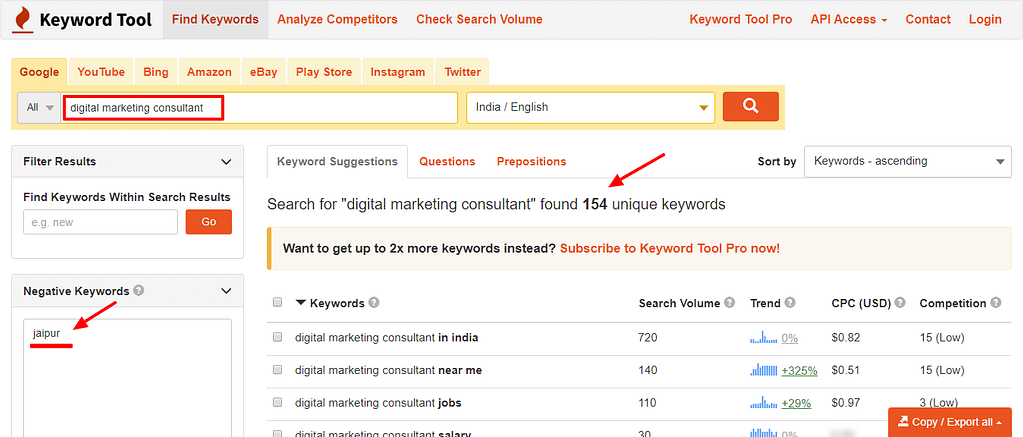 Apart from this you can export all the keywords or copy them clipboard for analyzing them in other keyword research tools.
Google Trends is a great tool provided by Google itself to check the estimates of search volumes in a specific region during a specific period of time. Highly useful to visualize the popularity of a particular keyword and plan your content calendar in advance.
The best feature is that you can compare the search volume trends of one keyword with another easily and visualize the same that helps in making a decision about the keywords optimizing for which you can get better results or traffic for your web pages.
For example, here optimizing your content for " Diwali" is better than optimizing it for "Diwali 2019"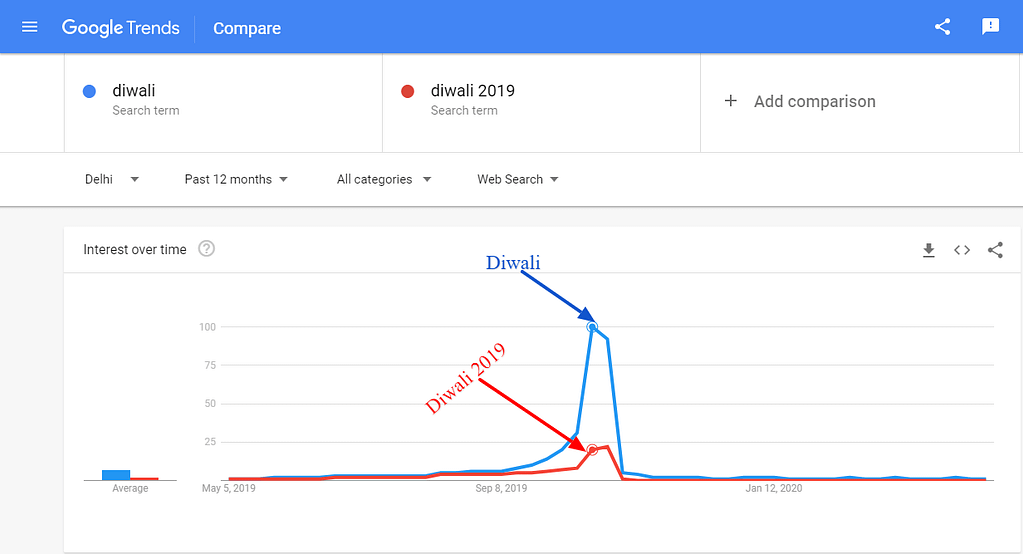 4. Keyworddit: Reddit Keyword Research Tool
If you are looking for keyword ideas from a completely new niche then this tool might be super useful. It pulls the data from the subreddits on the popular platform Reddit that is used by many to ask and share opinions about any topic. Moreover, it mines the keywords from the titles or comments by the members with their search volumes so you can easily understand the popularity of a keyword.
All you need to do is finding a subreddit in your niche or else enter a keyword related to your niche. In the image shown below, when I entered the keyword "SEO" it gave me suggestions of popular subreddits automatically.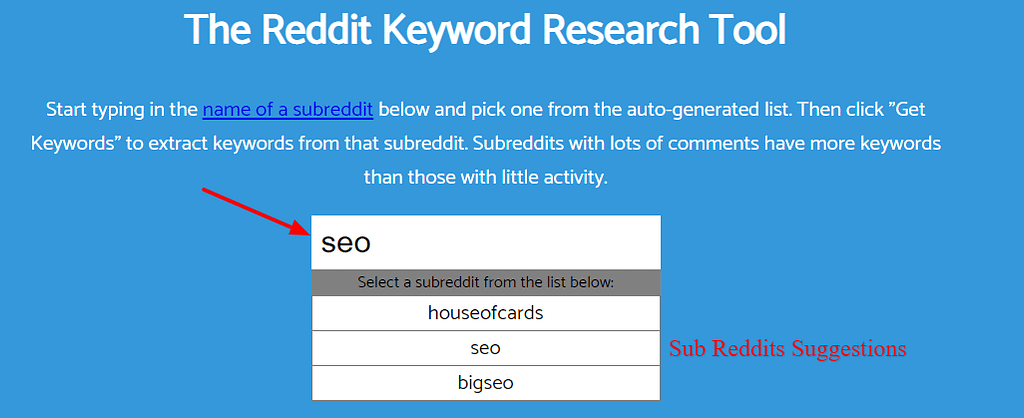 Now I have used the term "marketing" and selected the SubReddit then it pulled the keywords that are being used by the members along with search volume for US. The best part is you can export them and you can also see why that keyword showed up clicking on the "context" part that helps you understand what actually the users are talking about.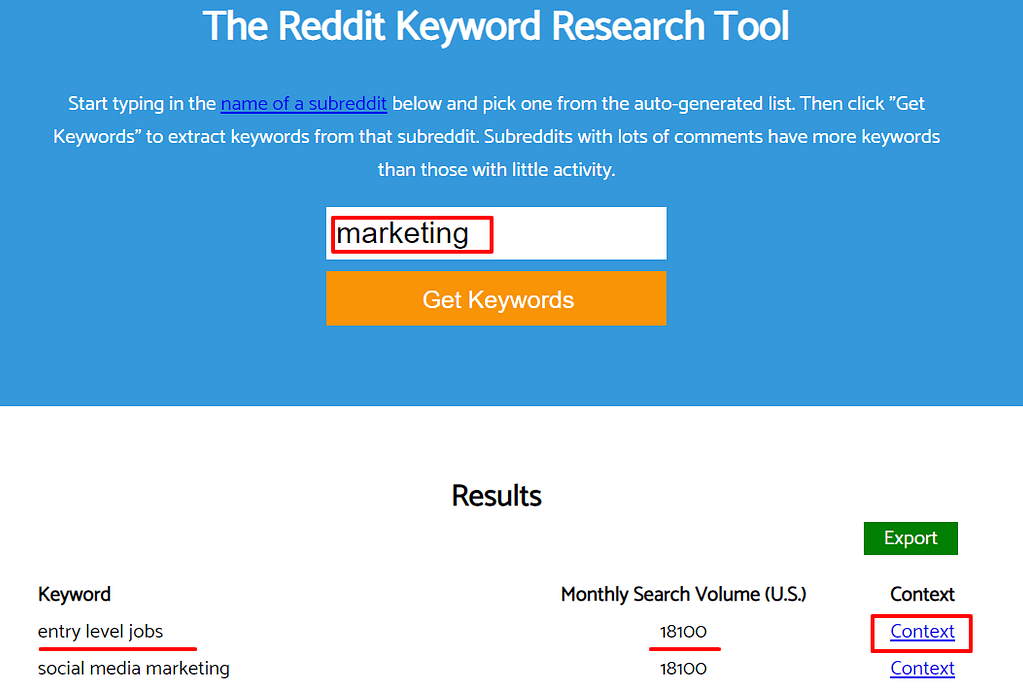 Keyword Sheeter is an amazing tool that pulls the autocomplete suggestions from Google providing you hundreds of keyword ideas within minutes instead of you manually trying to find them.
However, it doesn't show the search volume or trends or CPC data for free but you can export the ideas easily in various formats. Additionally, it has positive and negative filters just like keywordtool.io discussed earlier.
For using this tool you just need to enter the "keyword" and hit that "sheet keywords" button.
For example, here I have entered the term "google ads consultant".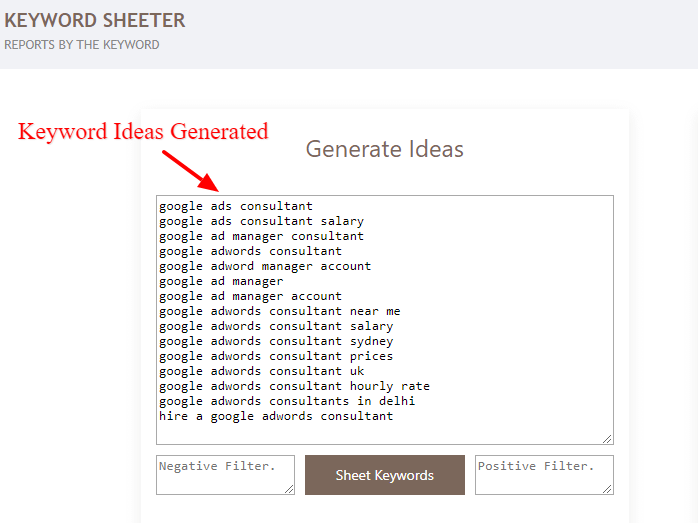 So here you can see the keyword ideas generated. Also, you can use both positive and negative keyword filters.
Incase of Positive Filter, you can enter a term and filter all the keyword ideas with that particular term. For example, in the above scenario, I have applied filter off with the term "Delhi" and then the only keyword in the above-generated ideas "digital marketing consultants in delhi" got filtered out from the rest of the results.
The negative filter works in the opposite way which can help you filter the keywords with out of context or un-related terms. For example, here I have filtered out the keywords with the term "UK" in the keyword.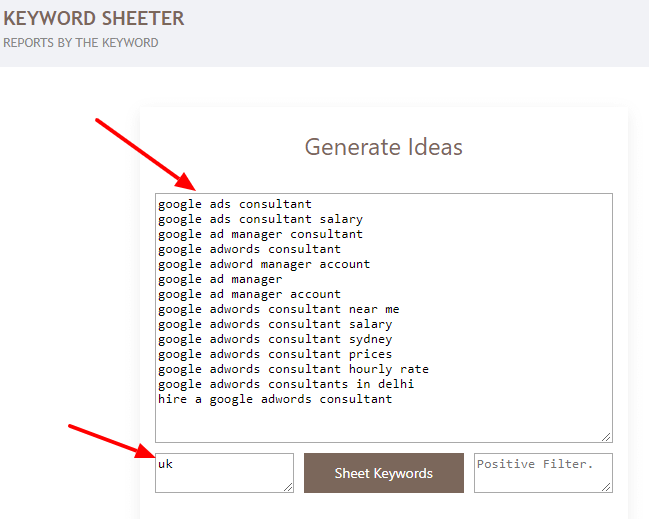 So using these two positive and negative, you can filter hundreds of keyword ideas with a specific term included in the keyword.
Soovle is another great tool to scrape the keyword ideas from multiple sources like YouTube, Bing, Yahoo, etc other than Google just like keywordtool.io.Typing in the seed keyword you can get a lot of ideas as shown in the image below. Additionally, you can easily drag and drop your favorite keywords using the "Saved Suggestions" feature to export them later easily.
Here in this example, I have entered the keyword "digital marketing agency" and saved it in the saved suggestions.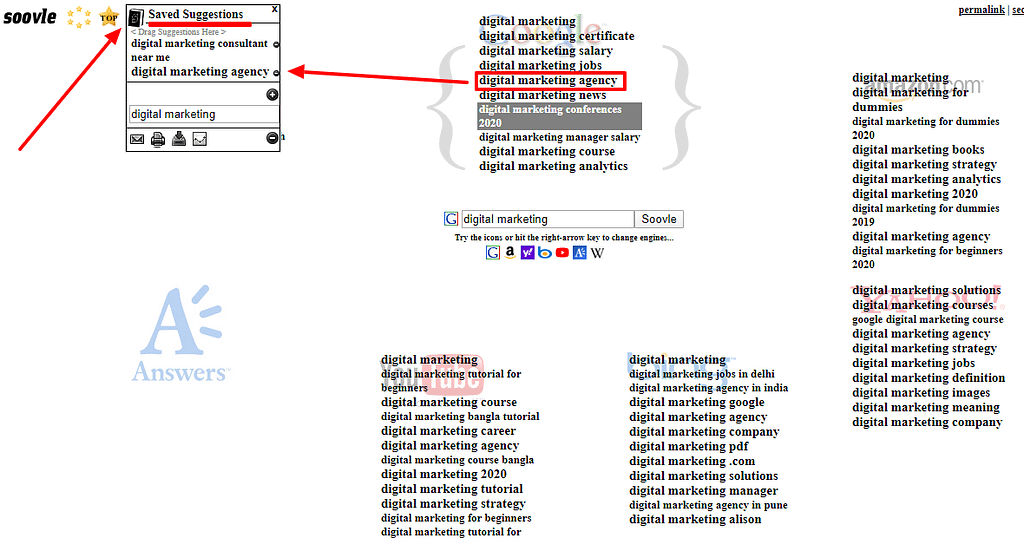 Questiondb is a great tool that pulls the questions used by users on the platforms Quora and Reddit.There are more than 31 million questions in their database according to data on their homepage. Entering your desired keyword you can get some questions for free that can be exported but requires you to upgrade for all the questions to unlock.
Moreover, you would get top related terms used in those questions along with that you can also check the source question.
Here in the image below, I have used the term "digital marketing" and the results appeared where I have chosen to view the source and it was from Reddit.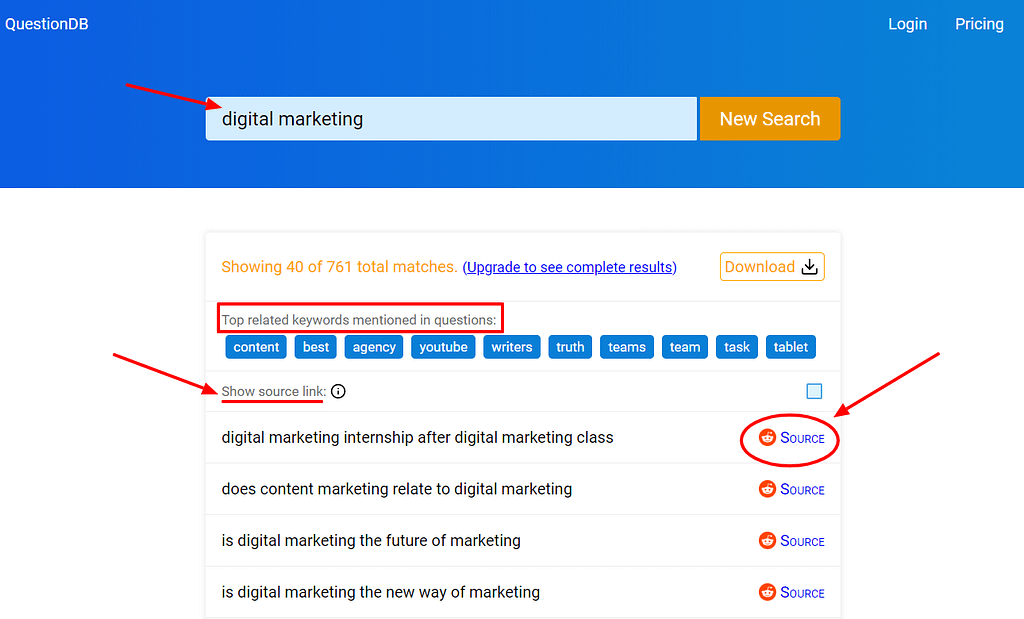 Answer The Public is a powerful tool to visualize a lot of ideas and possible searches that are being made by the users. However, you can see the data in a normal format if you feel overwhelmed with the visualization chart. The tool shows 5 types of search queries
Questions
Comparisons
Prepositions
Alphabetical
Related Searches
Let me explain to you each type of this one-by-one. For example, I have chosen my seed keyword as "Social Media Marketing"
Questions:
Firstly, you would see the question type of search queries starting with words like
Who, Which, When, Are, How, Will, Can,Why, Where
I have entered the keyword "social media marketing" here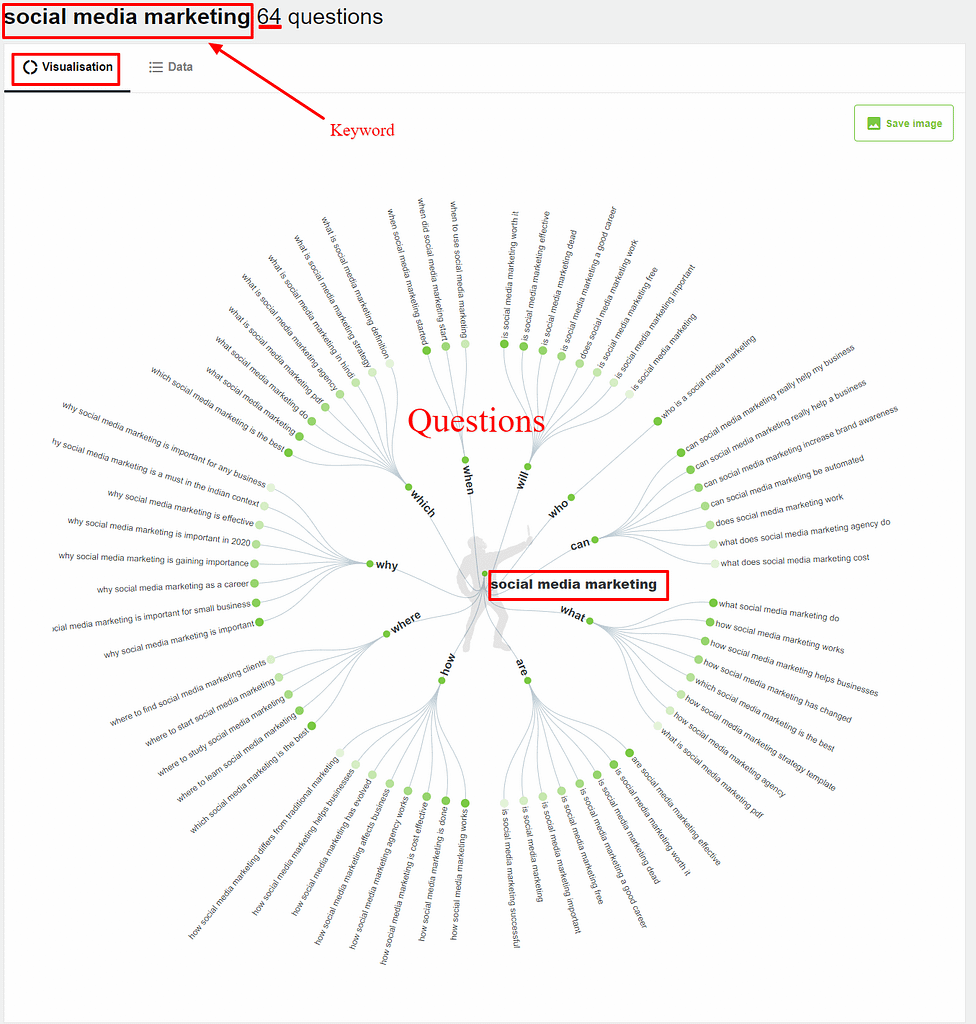 Here there 64 Questions that were starting with the words and shown visually. Some of them are:
What Is Social Media Marketing
Why Social Marketing Is Useful For Any Business
When to use Social Media Marketing
And 61 More Questions were shown
You can also select the data option if you feel uncomfortable with the visual style view and the questions show up in the following style.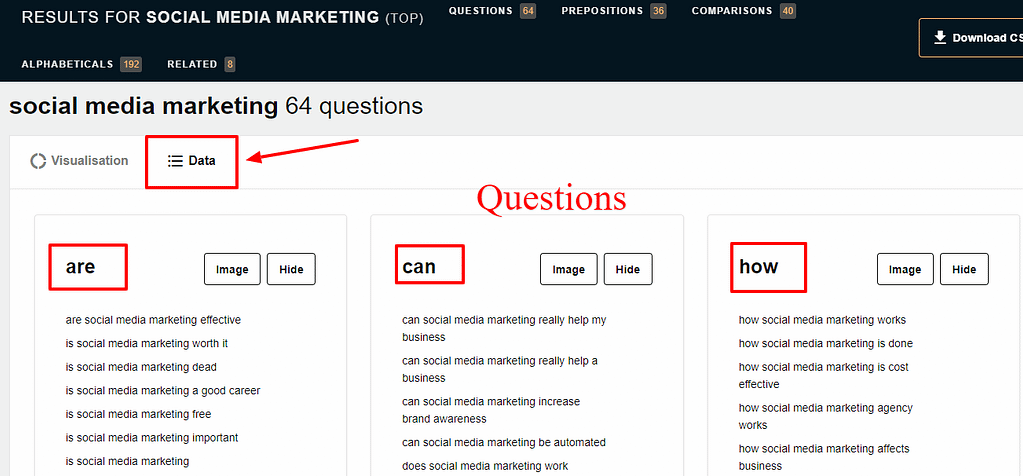 Preposition based Search Queries:
After Questions, You Would Find The Search Queries Including your seed keyword and a preposition like with, to, can, for, etc.
For the term "Social Media Marketing" 36 search queries using different prepositions are shown up. Some examples are :
Social media marketing with Facebook
Social media marketing for business and 34 more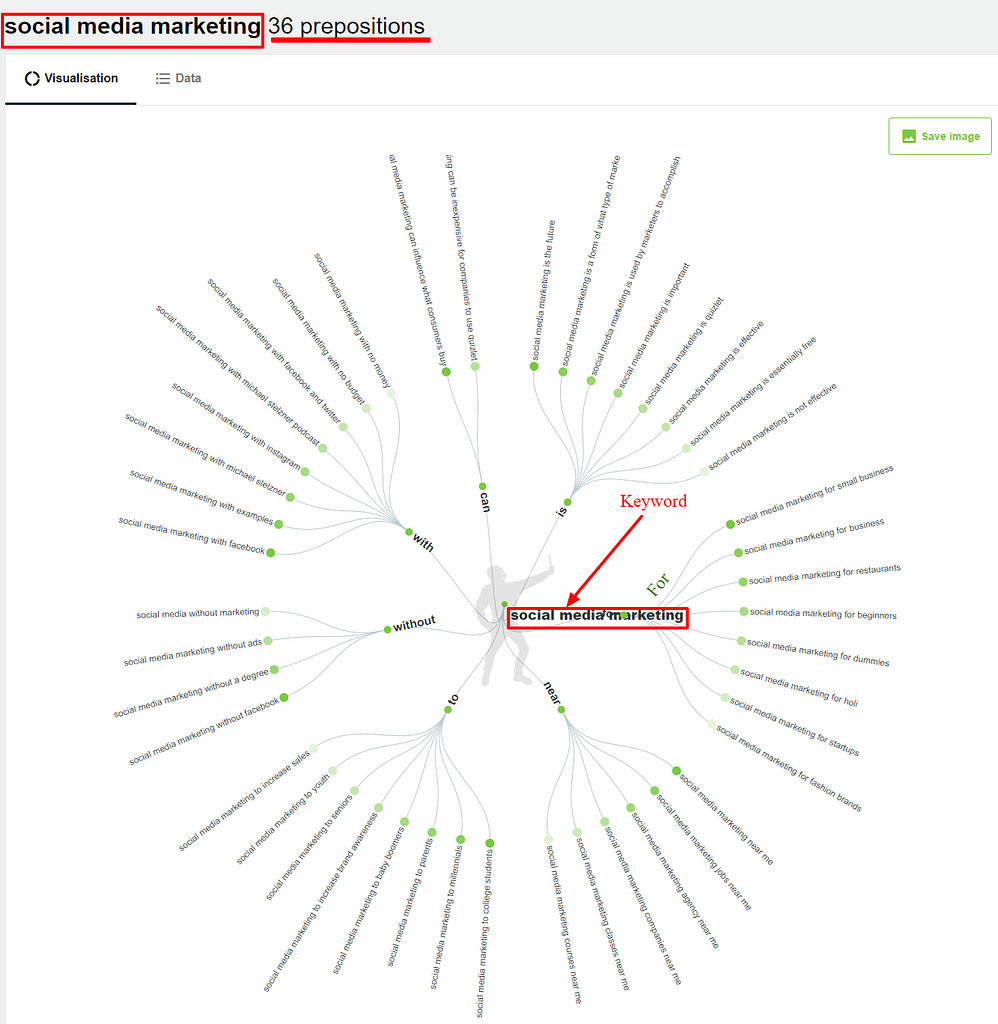 As discussed earlier, you can switch to the data to see them one-by-one
Comparison Type Search Queries:
The next thing you would find is a comparison type of search queries that are being compared by the users with your seed keyword. The search queries contain the comparing terms like versus, vs, or etc.
For example, the comparison type of search queries for the term "social media marketing" obtained are shown below in the image. Some examples are :
Social media marketing vs digital marketing
Social media marketing versus traditional marketing and 38 more were found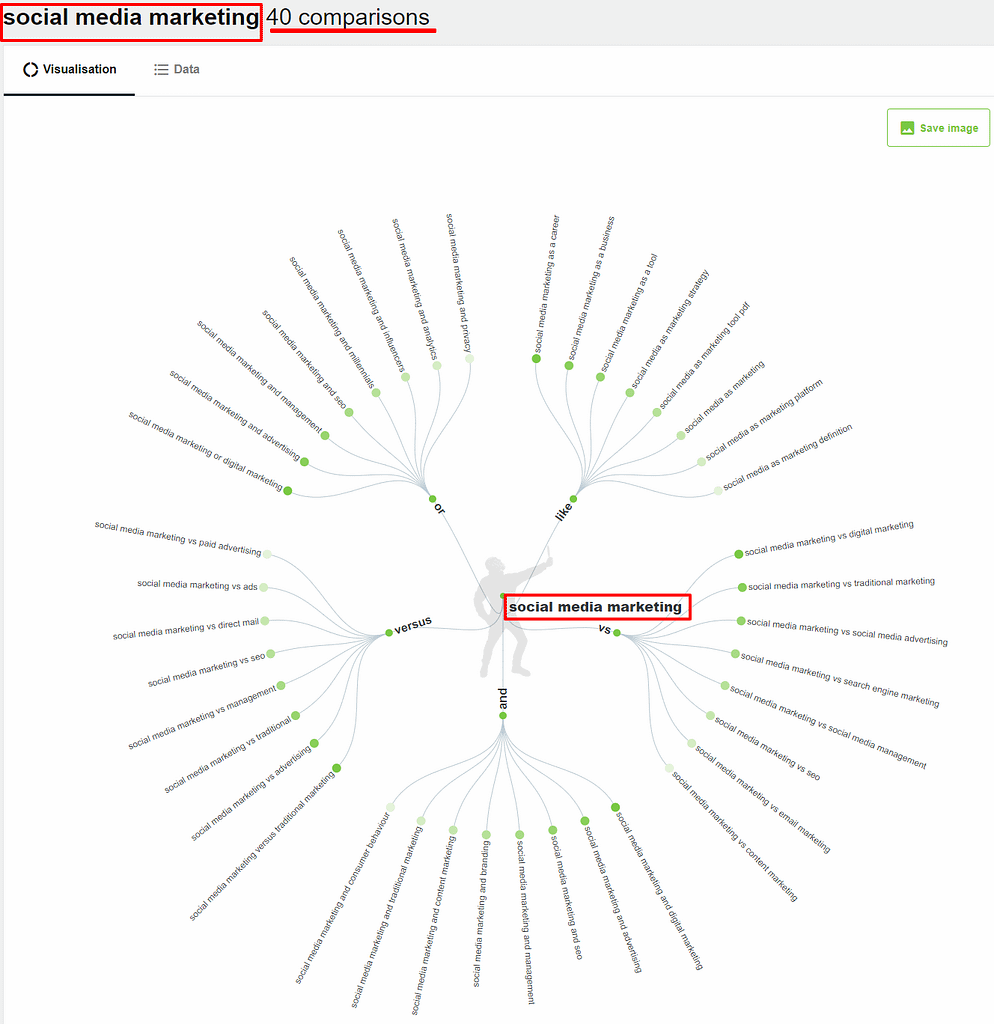 Alphabetical wise search queries:
This is another section where you find the search queries with your seed keyword and other words in alphabetical order. Some examples found when entered the keyword "social media marketing" are
Social media marketing agency
Social Media Marketing Business

Related Search Queries:
These are mostly related but can be found in the above alphabetical section as well.
9. Bulk Keyword Generator:
Are you doing local SEO for your business listing or client's listing then this tool would be highly useful for keyword ideas across various industries.
The first step is to select an industry type. Here I have selected the type of industry as Locksmith and then we need to select the services provided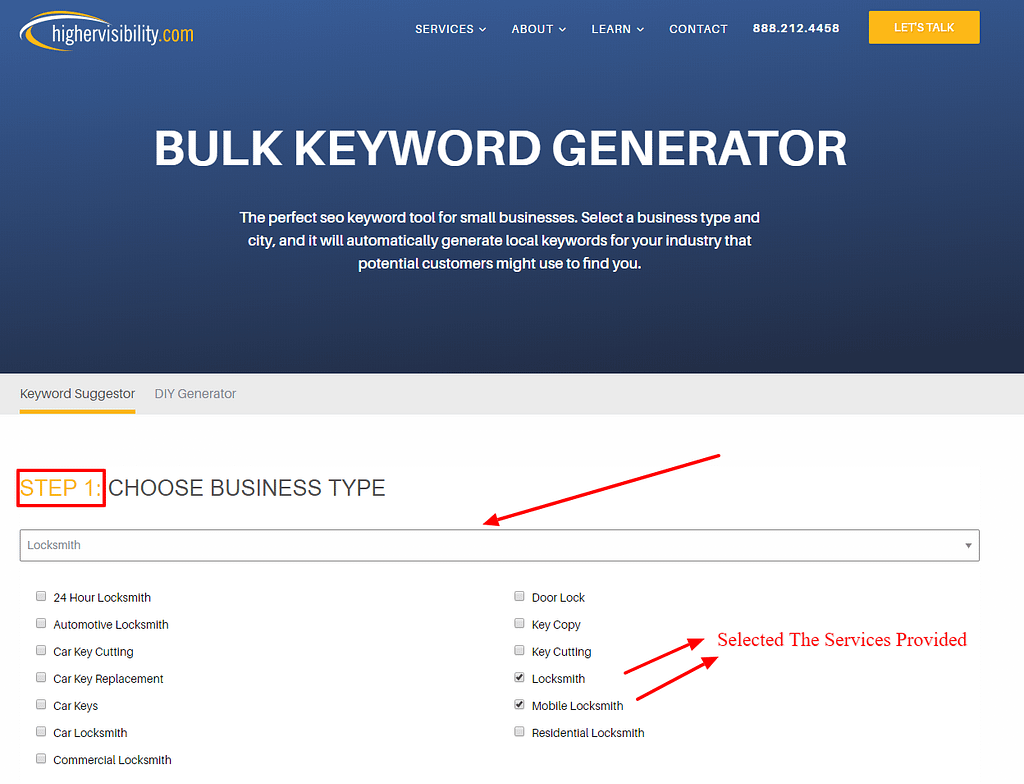 Secondly, you have to type in the location. Here I have typed in Delhi
Clicking on "generate keywords" I have obtained the following keyword ideas
You can easily copy them to the clipboard or export them to check and investigate them in other tools like Keyword Surfer that would show you the search volume and other details.
Ubersuggest, currently owned by Neil Patel, is also a good tool for keyword research. You can get various insights when you enter a keyword like a search volume, SEO difficulty, Paid Difficulty, CPC, etc
For example, I have entered the keyword "Facebook Ads" that has a search volume of 12,100 per month along with that various other metrics are also shown up.
It also provides the data of various other keywords and their metrics as shown in the image below

Conclusion: Best Keyword Research Tools
Performing Keyword Research in the right way can help you get more content ideas and find the low competitive keywords that would be easy to rank on the search engine result pages. Understanding the intent of the search user is important before proceeding ahead with keyword research. This helps in driving quality traffic with the right pages getting ranked for the right keywords.
I hope the above list of tools would help you get more keyword ideas and optimize your content better. If you are looking to get a list of keywords that would help your business please feel free to contact me. As a well-experienced digital marketer, I can help with keyword research and deliver the best list that your business can easily rank.