Wondering what are Long-Tail Keywords and landed here? Then you have come to the right article as we are going to discuss Long-Tail keywords and the reasons why you need to focus on them for SEO.
Most people try to target the keywords that are popular but competitive as well making it hard to optimize and rank on the top of the search results. Additionally, the intent is generally not clear when focused on the most popular keywords making the traffic of low quality.
Remember that every business or blog requires quality traffic to generate leads or sales that would generate revenues. Focusing on the long-tail keywords and optimizing your web content around them is a highly useful strategy if you want to drive quality traffic from the search engines.
Long-Tail keywords are generally specific with more than 3 phrases with less volume. These are less competitive keywords focusing on which your web pages can easily obtain higher rankings in the search results.
In fact, the majority of the searches made by the people on Google or any other search engine are "Unpopular". According to Ahrefs, more than 92% of keywords have 10 or fewer searches per month.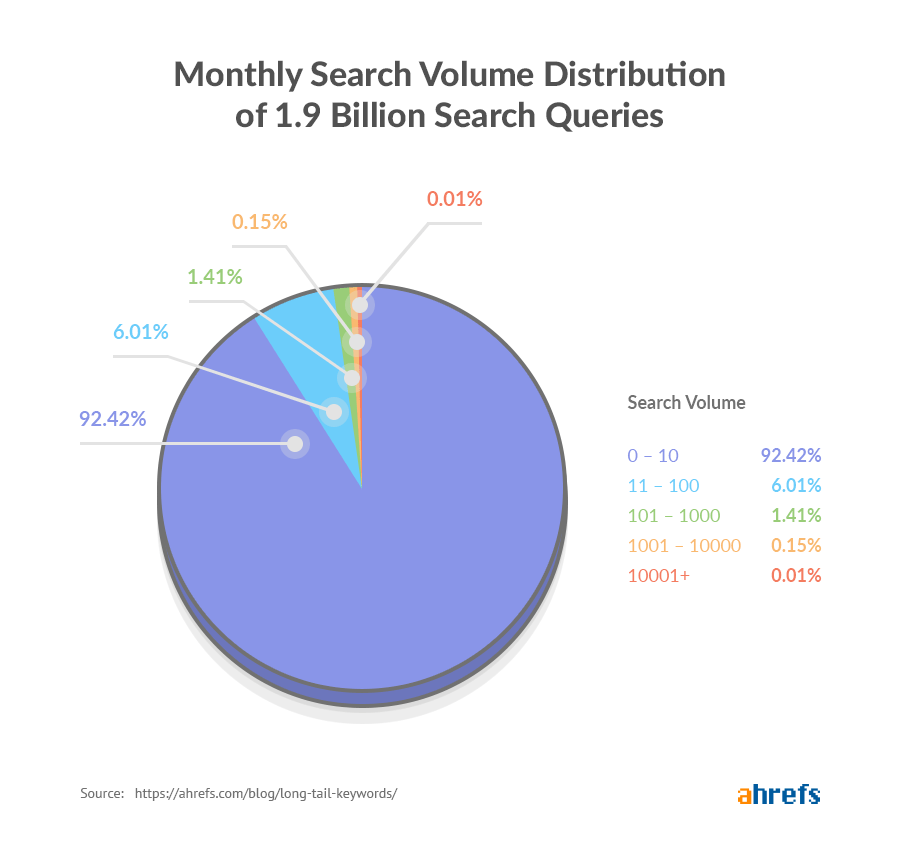 But most of the long tail searches made by the people have a clear intent. Remember understanding the intent is essential for driving quality traffic because you can predict why a user is making a search using a particular keyword. So even though they have low search volumes they should be used for your keyword planning.
Let me share with you some of the reasons why you need to use Long Tail Keywords.
Outranking your well-established competitors by optimizing your content with the popular keywords is not that easy. But unless your web pages rank at the top in search results, there is less chance of driving a good amount of traffic to your website.Long Tail keywords are less competitive making them easy to rank in the search engines with proper strategy.
From the search demand curve below you can easily understand that the competition is high for normal keywords when compared with the long-tail variation.
As long-tail keywords are generally variations of the head term or primary keyword once your web pages rank for long-tail terms automatically your rankings for the primary keywords would also get improved. Thus helping you optimize the web content for semantic search making it rank for the entire topic.
2. Drives Quality Traffic Boosting Conversion Rates:
Analyzing the most popular terms with higher search volumes and predicting their intent is tough. In the case of long-tail keywords, we can predict the intent of the searcher based on the phrases used in the keyword.
This is highly helpful in creating quality content with a context that provides value to the reader. In fact, the content would be more useful when various long-tail queries get covered providing a good user experience that impacts the search rankings making your content rank for various relevant keywords.
For example, the keyword "digital marketing" has an estimated search volume of more than 4,00,000 per month. Here we can't predict what the person making a search is looking for like digital marketing courses, digital marketing services, etc.
But for a search term "Digital Marketing Consultant in Delhi" the estimated searches are just in hundreds. Here the intent is also clear that the user is looking for a digital marketing consultant that too in a specific location. Optimizing for this keyword is the best choice because the competition is low and the traffic quality is high.
In fact, Google also prefers the content that is more contextual and relevant to the search query. There are many algorithm updates pushed by Google to provide the best result to the users such as Penguin, Panda, etc. One of its algorithm updates called Humming Bird that is used for matching the exact phrase in a long-tail keyword for understanding the intent of the user.
Additionally, when the traffic quality is high, the conversion rates would also be higher compared to the traffic that is obtained by ranking for popular keywords. Thus boosting the conversion rates of converting traffic into leads.
3. Increases Your Funnel Conversion Rates:
Generally, content creation is used as a Top of The Funnel Strategy. Content creation and driving traffic to the funnels are important for generating leads or sales for any business. With content creation based on long-tail keywords, one can consistently generate quality leads for their business with much higher conversion rates.
Now when the conversion rates are higher(Here in case lead generation from traffic), then the conversion rates at Middle of the Funnel or Bottom of the Funnel would also be higher than usual ultimately increasing the conversion rates of your entire funnel.
So even though these long-tail search queries have low search volumes they are the best keywords to focus on for generating business through the traffic. It would work very well in the long-term for continuously driving quality traffic or customers through Search Engine Optimization.
How To Find Long-Tail Keywords?
So now you got to know what Long-Tail keywords let me share with you how you can find them. There are many ways to find them some of the best ways are:
1. Using Google Auto Suggest:
With Google being the most popular search engine, you can find a lot of long-tail keywords using the Auto Suggest feature.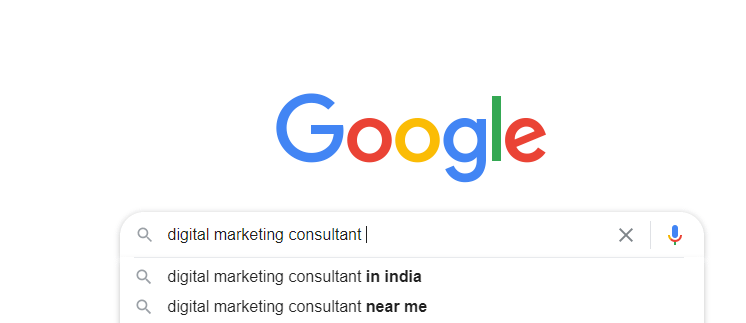 Here it automatically suggests different long-tail variations when the keyword "digital marketing consultant" is entered.
2. Google Related Searches:
These can be found at the bottom of the search results. Here I have made a search for "long tail keywords" where different variations of that keyword are shown.
You can repeat the same for other popular search engines like Bing. Making a note of all such suggestions by entering the keyword related to your business can be later used for preparing the content around them.
3. Competitor Content Analysis:
Your competitor might be using long-tail variations of the most popular term as they might also have SEO experts who know about this strategy. So there is a higher chance that would be targeting and you can easily find those by checking the meta tags of their source code. There are many keyword density tools if you don't want to analyze the content manually.
Answer the public is a great tool to use to find different types of long-tail variations especially the questions. Remember optimizing for question type of keywords can be highly useful as your web page can be featured in the "People Also Ask section" in the Google Search Results.It also helps in optimizing content for Voice search as most people ask questions.

For example, I have entered the term "Google Ads" and you can see the various long-tail questions that are being used by the people.
5. Keyword Research Tools:
Keyword Research tools can also be used for finding long-tail keywords. There are many popular tools like Uber Suggest, Semrush, Ahrefs that can be used for this purpose. Just enter the keyword.
Even if you have made a note of keywords by using the above-discussed methods you must optimize content for the keyword after analyzing them in the keyword research tools for driving best possible results after doing SEO.
The most important advantage of using these keyword research tools is that you can get various metrics such as search volume, CPC, etc of a particular keyword that is essential for filtering the keywords. Some advanced keyword research tools like Keyword Explorer in Ahrefs allow you to filter the results based on phrases allowing you to filter the list easily.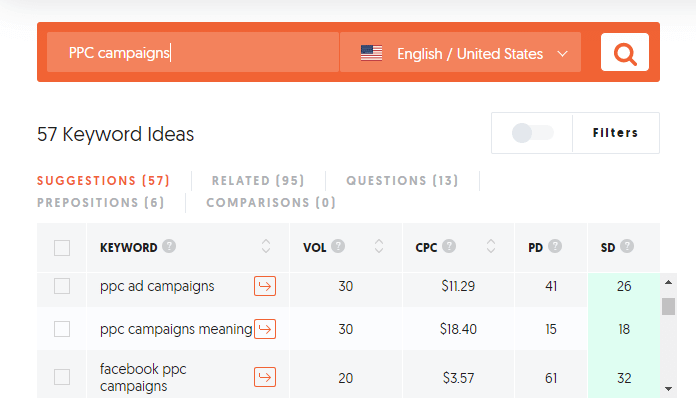 Here in the above example, you can see that for the term "PPC Campaigns " there are many long-tail variations shown up along with their volume estimates that would help in selection of the right keywords to focus and optimize content for them.
How To Use Long-Tail Keywords In Content?
Well after making a list you must filter them primarily based on how related they are with each other and the intent of them because the search queries might have the same intent even though phrases are different. This helps you to use them in various parts of the content that you are planning to create in a natural way.
Additionally, you would know the sub-topics or context around which you have to prepare your content so that it provides value rather than just driving traffic.
How Can I Rank My Business Website Faster?
Ranking a website on the search engine results page at the top is not that easy with many websites of the same business targeting the popular keywords. So the best strategy to get your website rank higher is doing SEO focusing on long-tail semantic search terms that are related to each other.
Using the long-tail variations of your business-related seed keyword the content would be more useful for the reader providing better user experience that is one of the ranking factors. Also, as the competition would be low, content written focusing on the long tail search queries the web pages rank faster in the search engines.
Additionally, you would be able to generate leads or sales on your website easily with better conversion rates on auto-pilot as the traffic quality would be higher. So using them is a good strategy to rank your business faster and gain traffic.
Conclusion: Long-tail Keywords
Focusing on Long-Tail keywords helps your business website or blog gain quality traffic from the search engines. They are less competitive making it easy to do SEO and rank higher in the search engine results. Additionally, the conversion rates would be pretty high compared in case if you are trying to generate leads or sales from the traffic.
If you are unable to find out the right keywords and looking to hire someone to provide the keywords then please feel free to get in touch. Being an experienced SEO expert to help business owners I do provide keyword research services.