Recently updated on July 27th, 2021
Agents can use to boost their business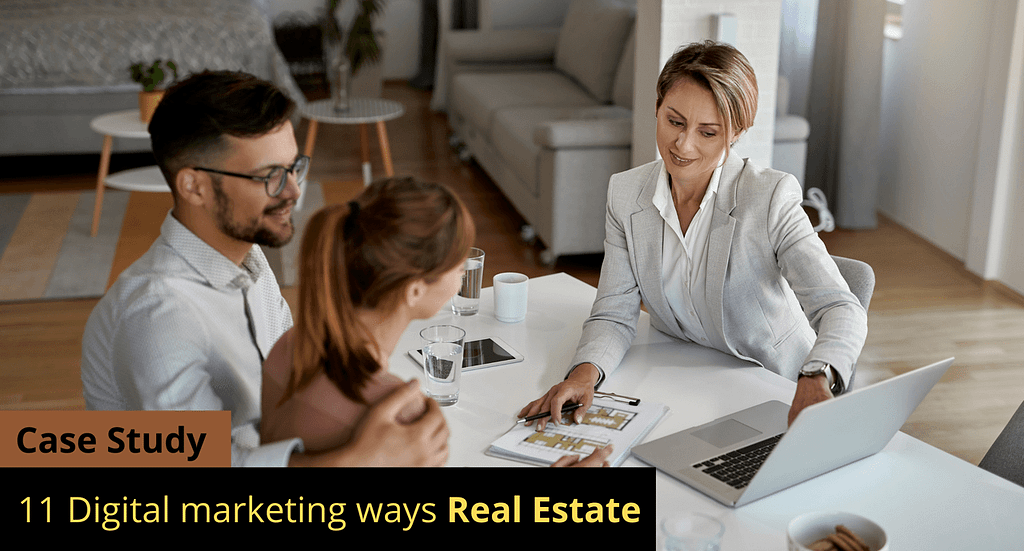 What is Real Estate Digital Marketing?
Digital real estate marketing entails recruiting new clients and increasing income.
Buyers and real estate developers alike agree that digital marketing is the best and fastest approach to create leads. Aside from their hectic schedules, the current generation prefers to use the internet first to get all relevant information and alternatives regarding real estate listings.
Real estate digital marketing is incredibly cost-effective. With the help of digital marketing, developers may reach their target audience and create a lasting impression. Because the majority of people look for properties online, it has evolved into a platform for home buyers and sellers to find what they need with just one click. Digital media marketing is the most effective when compared to print and broadcast media. It performs nearly the same job for less than half the price and earns revenue right away.
There are many different kinds of digital marketing tactics, including (but not limited to):
Search Engine Optimization (SEO)
Search Engine Marketing (SEM)
Social Media Marketing (Organic/Paid)
Content Marketing
Online Reputation Management
Website development & management
Email Marketing
Video Marketing
So, if you're interested in learning how digital marketing may help real estate developers and realtors increase sales, keep reading.
1. Create a User-Friendly Website
How many times have you opened a website only to have it close because it was taking too long to load? Realtor websites may be a web developer's headache since they contain so many photographs and connections. Real estate professionals, on the other hand, can create a responsive website that is optimized for mobile browsing with the aid of a competent web designer and an understanding of what their clients want.
Nearly half of all online browsing is done on a mobile device, therefore if your site isn't responsive, your customers won't be able to use it easily. In order to provide the greatest experience for your clients, your mobile-friendly website should have the following content:
A comprehensive list of all new listings
Information that will assist them in the home-buying process.
Contact information for moving-related services such as attorneys, movers, and house inspectors.
Also, think about adding a live chat facility to your website. Because your real estate firm is so people-centric, it's critical that you're available when customers have inquiries. Investing in live chat software allows users to connect 24 hours a day, 7 days a week, and arrange appointments without having to speak to you personally.
2. Develop an Email Campaign
An email nurturing campaign is a crucial tool in interacting with new leads and keeping relevant with old clients, regardless of industry. A well-rounded campaign, in theory, would guide potential customers through planned activities based on their buyer profile and past interactions with you.
According to Smart Insights, the average open rate of emails for real estate enterprises is roughly 27 percent, with a 3 percent click-through rate (CTR). However, the more relevant your content is to a customer, the more likely they are to open your email and read what you have to say.
3. Pay-Per-Click Advertising
PPC (pay-per-click) advertising is a fantastic technique for realtors trying to create new leads based on ads that they pay for each time the ad is clicked.
Because they only pay when someone clicks through their ad, PPC is a wonderful digital marketing choice for real estate agents looking for new customers who are really interested in what they have to offer.
PPC advertising is frequently targeted to those who have used Google or another search engine to look for connected keywords.
4. Create and Post Valuable Blog Content
Responsive websites with blogs often have 434 percent more indexed pages, which aids real estate professionals in improving their SEO.
A blog is an excellent method to improve your SEO, establish a great internet reputation, and give actionable advisce on purchasing or selling a home or piece of property to your clients. Whether it's posted on your website or on social media, a real estate professional's digital marketing plan is nothing without great content.
Make sure you routinely publish material that buyers and sellers can return to for solutions to their most pressing real estate queries, in addition to your adaptable website.
Your customers' time is valuable, and they want to learn as much as they can about a property before paying a visit. Virtual tours are an excellent approach to provide potential buyers with a thorough and accurate overview of the property.
Here's an example of a virtual tour (albeit some of the information in this video is old). If you build your own, please don't use music that sounds like The Sims' soundtrack.
Hosting a webinar, if you're comfortable with it, maybe  a terrific method to draw attention to your company. Host a webinar on "12 Little-Known Things to Look For In A New Home," including a Q&A session at the conclusion for questions. Webinars may also be converted as YouTube videos, providing great video material that can be kept on your website indefinitely! Here are some additional pointers on how to put together a successful webinar.
7. Ask for Testimonials From Former Clients.
Testimonials are powerful trust indicators. To potential clients, demonstrating that your services are endorsed by actual, living individuals means the world. When a homebuyer had a positive experience with you, contact them and request a testimonial. If at all possible, take a snapshot of them as well. Make the most of these testimonials by carefully displaying them on your website and sharing them on social media.
8. Optimize Social Media Accounts
This leads us to the following point. Most, if not all, social networking platforms likely already feature business accounts. Having an account and sometimes providing material, on the other hand, is insufficient for social media success. To thrive in an increasingly competitive industry, you'll need your own real estate social media marketing approach.
It's critical to understand that each social media platform draws different sorts of leads and is best suited for different sorts of digital content. While this doesn't imply you can't utilize the same material across all channels, you can obviously tailor your material to the platform you're using. When creating an infographic for your website, for example, make sure to save it in many distinct forms for each of your social media platforms.
9. Real Estate SEO Marketing
According to the National Association of REALTORS® Research Department, 50 percent of buyers aged 37 to 51 found their homes over the internet. Is your website user-friendly, allowing visitors to quickly locate what they're searching for, browse through many results, compare listings, and buy from you? If not, search engine optimization (SEO) is what you should be looking for.
¨       What Is Real Estate SEO?
Search Engine Optimization (SEO) for real estate simply means showing up in search results when customers are seeking someone to assist them purchase or sell a home. Search engine optimization (SEO) allows you to improve your website for search engines, increasing its exposure in search results and resulting in more eyes (and offers) on your available assets.
Is your website responsive, safe, and mobile-friendly? Do you have a tried-and-true email funnel and follow-up mechanism in place to help prospects connect with you? SEO is, without a doubt, the most critical factor for every realtor to think about. SEO can take your digital identity to the next level by using local SEO, keywords, website audits, and other technicalities.
10. Use High-Quality Photography
While videos and virtual tours are becoming increasingly important, no real estate listing is complete without the inclusion of beautiful, high-quality photos. The property photographs are the first thing that purchasers notice when conducting an online house search. According to reports, properties with high-quality photographs sell 32 percent faster than those without.
Hiring a professional real estate photographer to photograph your homes will go a long way. Platforms like Snappr and Expertise make it simple to identify skilled photographers in your region.
Keep in touch with previous purchasers (even months or years later) to maintain that positive relationship. Send anniversary cards, holiday cards, and other greeting cards to keep your name in front of their thoughts. They'll send your information on to a buddy who is ready to purchase when they have a buddy who is ready to purchase. 
Understanding the Real-World Benefits of Digital Marketing
It goes without saying that construction is expensive. Because digital marketing for the real estate market provides free exposure at a fraction of the expense of traditional marketing, it's no wonder that the real estate industry is capitalizing on cost savings.
Given the wide range of housing projects in terms of size, location, and cost, having a real estate digital marketing plan allows you to broaden your overall reach while also tailoring it to a specific target market.
In India, digital real estate marketing offers a variety of techniques to track an advertisement's success in a competitive market, making it easier for real estate developers to figure out which marketing strategy is ideal for their products.
There are several methods for developers to promote their items in the Internet marketplace, whether it's an apartment, a detached house, a villa, or a plot of land.
Developers need a strong and respected presence to flourish in the large real estate sector. Having an online presence is the next best thing to having a physical presence.
In 2021, real estate brokers must have a great digital marketing plan in order to succeed. You'll not only be able to generate more leads and develop a respectable reputation by following these suggestions, but you'll also be able to keep ahead of the curve in an industry that is extremely volatile during these difficult times.