Recently updated on July 16th, 2021
Looking for effective digital marketing strategies to promote your Edtech business online? Then The strategies we are going to discuss in this article might be helpful to achieve great results for your business. So make sure to go through this till the end.
Most Edtech businesses like you might have brain-stormed various methods to provide quality educational content for the students using modern technologies like Artificial Intelligence, Machine Learning, Gamification, etc.
Being Edtech Company, to create a better learning experience you might have used any kind of technology to educate people easily. But at the same time, you must have proper business marketing strategies to stand out from the other similar startups and companies.
With BYJU's success in its journey of attracting international investments/funding into its Edtech business and the necessity of people to increase their skill set for employability, many entrepreneurs have turned their ideas into Edtech Startups resulted in the creation of heavy competition to gain enrollments.
So to reduce your acquisition costs and generate revenue for your business by building credibility might look a daunting task for you. But it is possible to achieve great results with marketing. You just need to clearly understand who are the target buyers and convince them to buy your course.
Irrespective of the marketing strategy, understanding the demographics of a probable buyer is a must. Moreover, it helps in reaching them easily and gain more sales or leads for your business.
So having clarity about your probable buyer, you can move ahead with the marketing strategies.
Working closely with many education businesses over the years, I have listed down some of the effective marketing strategies that might help in promoting your business as well. So let me share them with a proper explanation making it easy for you to implement.
01. Content Marketing:
Content marketing works great, especially in the education industry. Publishing the content that can help your probable buyers can help in attracting them to read your blog regularly and convince them to buy an educational product offered by your business.
But writing any kind of content doesn't help you drive traffic. You need to perform good keyword research and optimize the content with the keywords picking them smartly so that you can gain traffic to your website.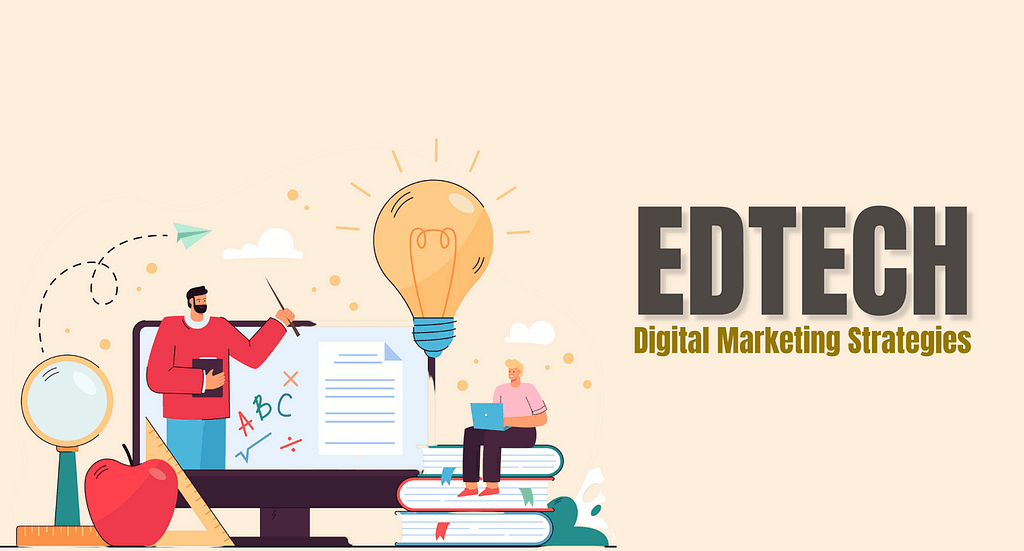 02. Search Engine Optimization:
Optimizing your website for the search engines in the right way can help you gain more traffic to your website ranking for various keywords related to your business. Most importantly this traffic is acquired free of cost and would be of higher quality leading to more conversions from them.
So to make your official website search engine friendly, you need to fix various kinds of issues on your website. Various on-page,off-page, and technical SEO factors should be checked using a thorough SEO audit. Later all the possible issues should be resolved.
Remember this is an organic way to drive traffic so no money needed to spend on ads and you can gain traffic for free as long as your pages are ranking in the search engine results. If you cant optimize on your own then better a hire good SEO expert to get your website optimized.
03. Digital PR:
Running an education-related business success depends on the credibility which can even beat the pricing obstacle that you might be thinking about changing based on your competition. If you can get an article published on a reputed blog or even a mention from a reputed influencer then it helps in building the trust initially which can benefit you a lot especially when you are just starting out.
04. Social Media Marketing:
With the billions of active users, you can't ignore to have a social media marketing strategy for your business. Depending on the target audience you need to choose the right social media platform having the user base with similar demographics as of a probable customer.
After choosing to focus on the content creation for the users of that platform so that they might find the content useful and engage with the posts. For example, EdTech startup Cuemath shares post asking the followers to reply with correct answers for their mathematical questions.
This is drives engagement with their content from the followers which is the key to reach more users on the platform and generate new leads for your regularly using social media marketing.
Of course, it is mandatory to have the presence of your business on all social media channels such as Facebook, Twitter,LinkedIn,Instagram, etc. Running Facebook and Instagram ads is a good method to build awareness for your business spending less compared to the Google Ads campaigns.
05. Video Marketing:
Video marketing is great to show your educational products in action to a potential customer of your business. Using a perfect marketing video introducing your product or business to a probable customer is an amazing method to generate leads or convert the prospect into a customer. So start sharing video content on Youtube or Facebook.
Playshifu, a Bengaluru based Edtech startup has a perfect marketing video on their website that demonstrates how their Augmented Reality and Virtual reality products work in reality which can be tough to explain the parents without demonstrating them.
06. Chatbot Marketing:
Chatbots are the best way to interact with website visitors and collect their contact details easily when compared to traditional popups or online forms. They also help in providing the details to the visitor based on their responses to the pre-framed question offering personalized answers resulting in providing a good user experience for the visitors.
Class plus, a good Edtech startup uses a chatbot on its homepage that pre-qualifies the visitor asking pre-framed questions if the visitor is a parent, student, etc and suggests the things based on their answers to the specific questions.
07. Testimonials:
People trust the testimonial videos rather than a good marketing video of your business. Not just video reviews you can even text reviews and share them. So start documenting all the testimonials given your customers and publish them on your website, social media handles, etc. Even using the testimonials on landing pages of ad campaigns can act as proof of your work.
Lido learning does this in the right way listing out the testimonials from the parents of the students and highlighting them on their home page itself. So any parent viewing their homepage can easily trust them and check the other details or book a demo for buying their tuition packages for their children.
08. App Store Optimization:
If you are an Edtech startup, to make your content easily accessible for the people via mobile devices you might have already got a good application developed and launched in the play store or i-store.App store optimization can help you reach the people who might be already using or searching for any other competitor in your industry.
App store optimization helps your app get recommended or suggested by the store platform when someone makes a search for any related business. This helps in building awareness or generating leads for your business.
09. Email Marketing:
Being a business owner, you might have collected leads of probable customers using various methods like lead generation ads, website forms, etc. But nurturing them regularly sending valuable emails along with promotional offers helps you build trust and generate revenue for your business.
With powerful email marketing automation, you can even segment your lists and upsell your current customers to sell your products or packages and generate revenue regularly for your business.
10. Remarketing:
When compared with the normal digital ad campaigns remarketing ads are most cost-effective in driving conversions with low advertisement spends and gain huge Return On Investment for your business.
So install the remarketing pixels correctly of various platforms such as Facebook, Google, etc, and collect the visitor data to retarget them with your ad campaigns to drive sales for your business with low acquisition costs.
11. Live Video Streaming:
Streaming the live videos on social media or YouTube can help in attracting the users to view your content. Especially when your startup is based on Artificial Intelligence or Virtual reality you need to demonstrate the use of your products that can help the users learn the subject easily.
You can organize sessions as a series going live frequently demonstrating different products on a regular basis. Live streaming and demonstrating what your products can do would help in convincing the parents easily rather than a phone call or meeting them personally. Once they know more about the product you are offering people would buy them definitely.
Conclusion: Digital Marketing Strategies for Edtech
As an Edtech Business with a goal to make education accessible for the people using technology you should also focus on the generation of leads reaching the target audience. I hope the above ways would be good enough to help you acquire new customers selling your products or packages to the people.
So being a startup business owner, even though the strategies are discussed in detail you might not be able to implement and generate results from them. Being a well-experienced digital marketing consultant I have helped more than 300 clients successfully. If you want to outsource all the digital marketing needs from planning to implementation then please get in touch.