Recently updated on September 9th, 2021
The thing which we never thought of implementing so quick is now becoming a dream come true, do you know how? Covid'19 and lockdown made it possible because it turned out many business in huge losses and many companies had to shut their business permanently.
The Covid'19 pandemic has changed everyones lives forever, there was a time where people used to do offline marketing but now every business has taken a step towards "Digital Adoption" and more than 12 million businesses have shifted online and many more are still planning to do so. 
Banks have transitioned to remote sales and service teams, agencies have totally shifted to digital and remote marketing even the education sector has shifted to online education and managing to serve the best quality studies to their students.Grocery stores have shifted to online ordering and delivery as their primary business. Schools in many locales have pivoted to 100% online learning and digital classrooms. The pandemic has changed alot of things and sooner it will change more things too in terms of operation and delivery of the product/services.
In the present scenario, there are not many colleges that have adopted online marketing some are still focusing on offline marketing and just one step behind the current trend.
In the present scenario, the colleges are directly focusing on offline marketing. As the technologies have improved much, it is better to focus on digital marketing. Marketers may get important insights into target audience habits and a wide range of audiences to target in terms of admissions and students while also introducing new means of consumer involvement by using an omnichannel digital marketing strategy.
In my opinion, the most common challenge that colleges are facing these days is converting their offline marketing to online marketing and the major behind is the right Digital Marketing Strategy! Now let's take an example of Big Colleges like Amity University and Symbiosis are following the right Digital Marketing Strategies by which they are touching heights. So in this article, we will totally be discussing the correct Digital Marketing Strategy for Colleges. Moreover, if you are a student working on your college project for marketing or you trying to improve the status of your college then this case study will be of the most useful and of help to you to showcase to people and use for any further information/project.
So if you have a college or your own university then I have some amazing tips and strategies to expand your marketing strategy and get more admissions – 
Stage 1: Gather and Collect all the Necessary Details / Information about the University (SWOT Analysis)
So talking about the first stage we need to gather and collect information about the university/college like what strategies are they currently using? What is the specialization of the college? Before implementing any Digital Marketing Strategy you need to identify all the approaches and goals to present for the college. SWOT Analysis is very necessary for any industry and especially for the education industry because there are many big colleges and competitors for every stream and course nowadays. SWOT Analysis will help in
Analyzing the Strength of the College i.e the best course and things we offer to our students and even how we can make it much better by adding some value.
Understanding the Weakness by doing Competitor Analysis i.e if we are doing something wrong and missing something major in the offer and strategy
With market analysis, we can understand the market trend and get an Opportunity to add something new or if any new course or specialization that can be preferred by people in the future and can the new trend. For example, we analyzed the market and understood that Bitcoin will be more famous in the future so we can launch a course/ degree or specialization in Bitcoin for students so that we can overtake our competitors.
SWOT Analysis helps in understanding the Threats we have from our competitors in terms of courses/offers/brand names/marketing strategy etc. Understanding threats prior can help in the easy functioning of your university and also understanding that what the competitors are doing currently? And what best we can do.
Stage 2: Study all the Competitors Wisely
After performing SWOT Analysis for your college the next thing you need to do is study all the competitors wisely. So let me present an example to make this thing understand for eg you are a college based in Varanasi which offers Specialisation in Law and Degree to students, but the issue here is you are not only the one college offering courses in Law there are many more colleges in your city and even in the whole country who offer best courses and have a market reputation. So in this case you need to do the following things :
Understand and list out competitors who are based nearby your locality/area
Then you need to understand the competitors based in your city
Then sort out competitors based in your State. For eg your college is based in Varanasi then you need to do a broad analysis for it.
After that, there comes competitors who are based all over the country say India then you need to sort out the Top 20 or 30 Competitors to understand all the competitors you have in the segment you provide education.
Then the next thing you need to do is analyze the Potential Keywords of your competitors and perform proper Keyword Research for your college. For eg your college is in Noida and it offers PG Degree in Marketing so maybe your potential keyword can be "Best PG Degree Course in Noida" or

"PG Degree Course in Marketing Noida"

. The best tool which would help you to do that is either Ahrefs or SEMrush.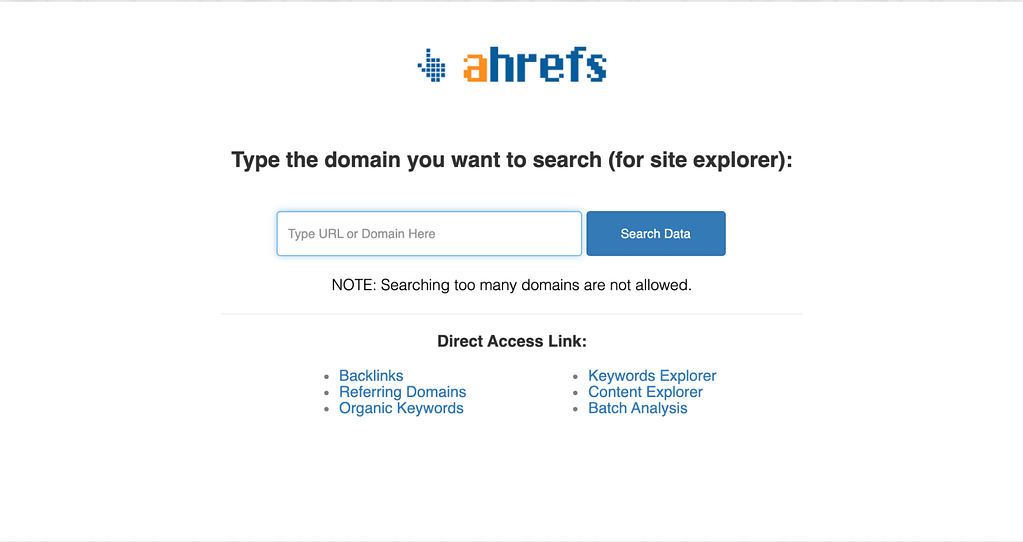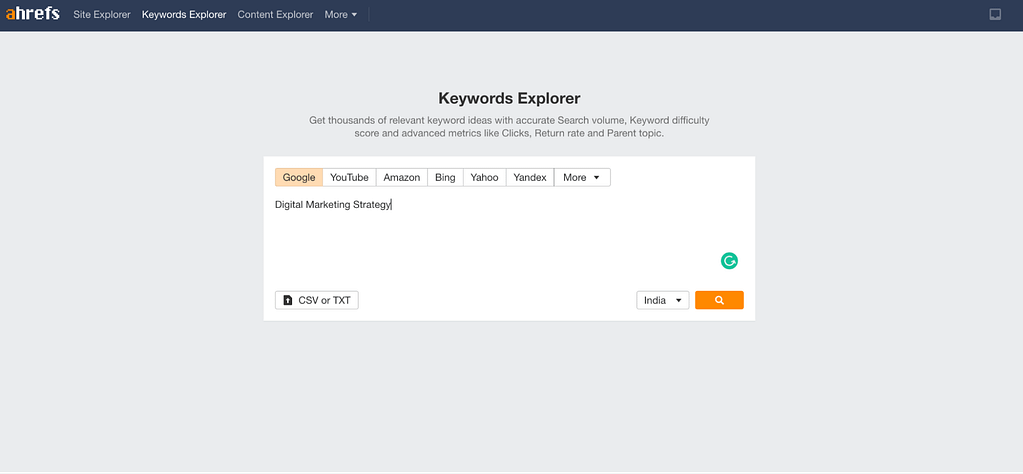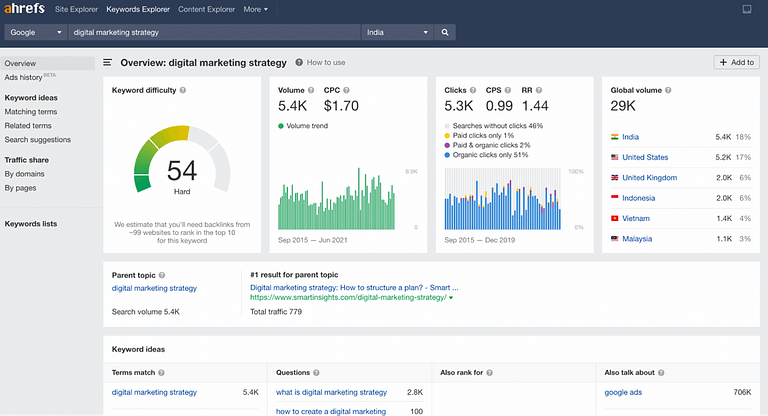 After you are done with spying the keywords the next thing you have to focus is on perform the potential backlink analysis. Do you know why? It helps you to find out where your competitor get links from and which websites/platforms are promoting them and their courses so that you can also try getting links/ guest posting from those good websites and eventually promote your college and courses.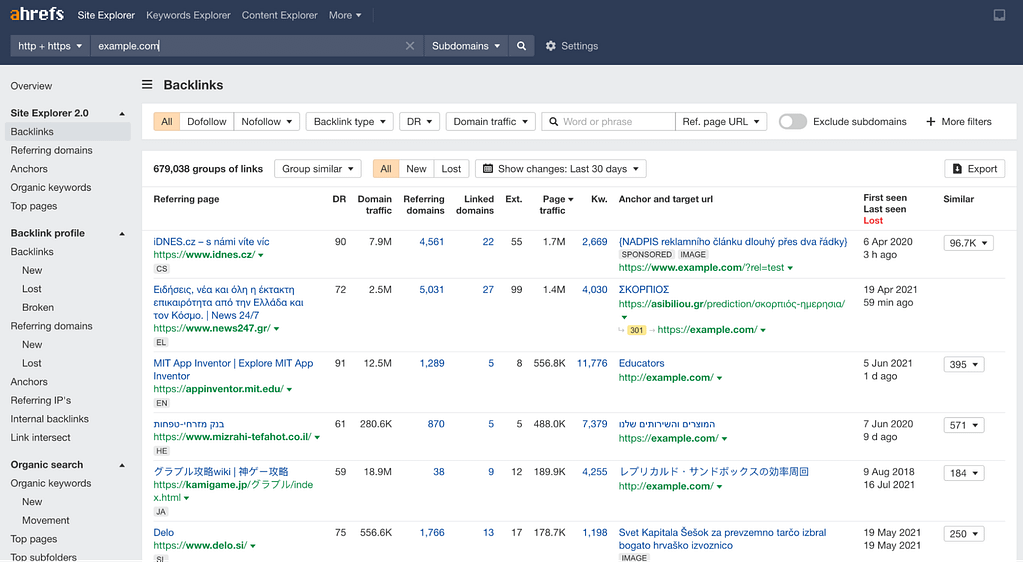 Stage 3: Understanding the Current Student/Admission Status of University
How many students are so far associated with the university?
How many admissions university gets on average?
Where are they lacking in admissions?
If not why people are not taking enough admissions, finding the possible cause
Do you know why understanding the current admission status is important for any university?
Analyzing the current situation helps in knowing where the university is lacking and what is the current positioning of your University. It will help you to understand the following things:
How many students are so far associated with your university?
How many admissions your university gets on average? And if not getting admissions what might be the possible cause?
Where are they lacking in admissions? Is something wrong with the course structure, course module, university reputation etc.
What could be the possible reason of why students/people are not taking enough admissions and finding the exact loop hole.
Stage 4: Checking Online Presence of University on all Platforms
The major thing that institutes/colleges are missing right now is their presence on Social Media platforms and are operating totally offline due to which they face a lack of admissions and sale of courses. In this competitive scenario, it is very important to have your online presence such as social media handles (Facebook page, Instagram profile, Linkedin Page and Twitter profile, etc) as well as a well-built website to cater to good traffic and student audience on it.
Do you wonder why Social Media presence matters a lot for your college? Let's start with a very simple fact just like fuel is important for a vehicle to run and give good performance in the same manner Social Media is important for your college's good reputation and appropriate positioning. It plays a crucial role in helping colleges stay connected with alumni and also increasing the value of their education by expanding their courses recognition. Here are the following reasons which suffice the importance of Social Media for your college:
It allows colleges to share the alumni's life career and big news on social media in order to showcase their life and career achievements on Social Media. To be very precise for any college it is very much important to have a good Social Media Presence and Engagement either in terms of conducting live sessions or any other zoom session as well and stay connected with their audience. The core reason for this is it helps in increasing brand value and people tend to show interest even more than earlier in your brand. Recently I also conducted one session with GL Bajaj Institute of Technology and Management and it was a very interactive and engaging session that drove a lot of engagement and social interaction from people
You can any day share your happy moments on your Social Media and that eventually leads to your brand promotion and making other people celebrate your success.
You can promote your best faculty over your Social Media Handles even in a proper video form so that it helps to build trust amongst people and encourage them to take admissions. Video Works are always effective because people/ your audience feels a sense of trust and tend to believe what you say and feel connected.
Social Media is the only way to stay purely connected to your audience which helps to share everything your college does the extra co-curricular activities, all the achievements, and even get good suggestions from the audience itself for the scope of additions and improvements for your courses.
Let's say you are a college that specializes in Medical Courses and your competitor does the same but the difference is that your university does not have any online presence but your competitor has so they will get an advantage over you for it, in terms of getting admissions and getting more students, so if you do not have your online presence so focus on creating the social platforms and change your targeting along with marketing strategy so that you can beat your competitor and perform well.
Stage 5: Understanding the Target Audience of the University
On the Basis of Age
On the Basis of Income/Education
On the Basis of Interests
What is the Intention of the Students?
On the basis of Location
A successful Digital Marketing Strategy includes understanding your audience properly and understanding the current student admission status for your college. If there is a major gap between your competitor's results and your results then it is a major issue and we need to take urgent action for that. As a college/ educational institution,  the set of audience which you might have includes your students, alumni, professors, researchers, and recruiters and it is very important for you to collect various details about your audience such as their age group, race, location, gender, financial status and many other things necessary to start with your institution's marketing. As soon as you have collected the necessary details about your target audience it will be easier for you to put the marketing efforts properly.
For instance, the University of Toronto takes admissions for students from all over the world, they are not only restricted to Canada so their marketing campaign would include target audiences from various parts of the world like India, The United States, Turkey, Iran, etc. So the target audience will be wide and an ads campaign would be done also keeping into consideration their financial status so that ads are only shown to students/people who can afford education in the college.
Stage 6: Creation of Target Audience of the University
Yes if you are clueless and you do not have your target audience then it becomes necessary to create your target audience before going for a marketing campaign i.e paid campaign. But a question might be troubling you that how to create target audience for my university? Don't worry below I am mentioning the appropriate method on how to create the perfect target audience for your University/College.
1. On the Basis of Location
Let's take an example here just assume your college is based in Delhi lucknow and it offers pg courses for students and the most important thing is it takes admissions only of the local citizens not anyone from the other state, so your targeted audience will be people situated in Delhi and that too they will area or region-specific in Delhi will Lucknow who are looking to do their masters and complete their Post Graduation Degree. If the university is targeting people from any other city say Bangalore then it is irrelevant because they are not the potential audience who is willing to take up admissions in your courses.
2. On the Basis of Website Visit
Yes we can easily track the people who are visiting the university's website by checking regular Google Analytics to understand from which location and area the audience is coming from also understand their behavior. Even there are other tools like Similar Web and Ahrefs which exactly tell you where your traffic is coming from and where your potential audience is located and you can probably focus more on targeting the location and improve your marketing strategy a bit more. These tools even tell you the percentage of traffic coming from various methods i.e Direct Search, Social Media, Referral Traffic etc.Surveys prove that 46% of students identify websites as the most impactful information source to attract their attention and even gather proper information.
Your website plays a significant role in getting students enrolled in your institution/ college. Try to add some beneficial tips and make it a great experience so that students might get clarity on what you offer and how reliable you are.
3. On the Basis of their Interests
Yes we can easily track the people who are visiting the university's website by checking regular Google Analytics to understand from which location and area the audience is coming from also understand their behavior. Even there are other tools like Similar Web and Ahrefs which exactly tell you where your traffic is coming from and where your potential audience is located and you can probably focus more on targeting the location and improve your marketing strategy a bit more. These tools even tell you the percentage of traffic coming from various methods i.e Direct Search, Social Media, Referral Traffic etc.Surveys prove that 46% of students identify websites as the most impactful information source to attract their attention and even gather proper information.
Your website plays a significant role in getting students enrolled in your institution/ college. Try to add some beneficial tips and make it a great experience so that students might get clarity on what you offer and how reliable you are.
4. On the Basis of their Interests
Understanding Interest of the audience is very crucial specially in education sector because we need to target right students/people who can take admission in the course that the university or specific college offers. If the university does not know the interest base of their audience then it might start targeting wrong people 
For eg Champlain College in Burlington, Vermont offers an online program in App Development. So they target the people who have an interest in app development or are interested in learning app development. But as app development is very broad so the person might start getting specific or showing more interest in things like Native App Development, Hybrid App Development, Java, etc and these type of multiple searches clearly shows that they have interest in the specific course and are curious to know more about it and enroll in the course.
It might fetch them the correct audience and will help them to get maximum conversions.
If you understand the interest of your audience then pitching your product to them is not very difficult just need to understand what they want and what they like.
5. On the Basis of Financial Status
 Yes it might sound a bit odd, but it is true that before creating your audience list you need to check that if their financial status matches with the programmes you offer or not. Always target people who falls into the income slab and can afford your institution's education.
So lets understand this thing with a simple example Apple is a brand who sell high budgeted products say iPhone, Macbook, iPad etc so they only show their ads to people who can afford their products like people who fall into yearly income slab of 10-15 lakhs, just assume if they start showing ads to person who earns 10,000 per month will there be more chances of conversion? No! So they are doing a smart move by showing their ads to audience who have rich financial background and are making their audience list via that only.
Stage 7: Creation of Multi Faced Internet Marketing Strategy for College
Multi Faced Internet Marketing is not a myth, yes it is not a myth. If you want to build your's college's reputation and make a proper positioning then you need to focus on Multi Faced Internet Marketing Strategy for your College just like
Searching High Volume Keywords and Performing SEO
Search Engine Optimization is the process that involves getting potential clients as well as traffic through Search Engine Results. But for that, you need to rank on keywords, and Keyword Research is really important.
Why SEO is Important for your College?
SEO is really important for your college's website as it offers various benefits now or later. Some of the benefits which SEO will provide you are – 
It will help you in improving the visibility of the website/page and will drive more visitors to your site.
This will give you growth in brand awareness and make your target audience aware of your college and the courses you offer.
SEO and good keyword research assure you that your content gets in reach of your target audience when they search about any relevant course and jump into your website.
It eventually helps you out to form your own student base and even collect a good database.
Stage 8: Creation of Marketing Campaign for the University
For your college's marketing not only organic marketing is enough you need some paid marketing efforts to push your branding. What all would you need for that?
Probably your University's Ad Account Setup and many more things. You could follow the following things to create a high-end marketing campaign:
Create the perfect ad copy so that it is click-worthy and students might want to know more about your university and the courses it offers.
Placing of texts/keywords leads to High CTR. Indeed Keyword Placement is one of the important things one needs to take care
Correct use of Copy writing and Design. Not only having a website is important it just needs to have good copy on its banners, pages, social media as well as an eye-catching design. Reports say that 60% of the audience gets influenced by the design i.e by the way you have presented your website and listed the services.
Create an Email Marketing Campaign also to shoot emails for students which can encourage them to take admissions and have a brand recall.
Stage 9: Create a Google Ads Campaign (Properly Optimised with Keywords)
Place all the data and related information on the landing page
Place all the keywords necessary for the brand
Do proper A/B Testing of the landing page before launching the final ad
Now only just thinking to plan Google Ads and not doing it is merely a big mistake that you are doing and missing on your college's marketing strategy. Knowing the right Google Ads Strategy is also important. Starting with what exactly Google Ads are? Google ad is a type of pay-per-click advertising that almost 90% of brands are doing currently and it helps you in increasing the awareness of your school/college effectively to your target audiences.
There are many types of ads but out of Google ads these two types of ads are mainly seen
Mainly two places the ads are seen:
Google Search Network: it will appear like a text in the Google search results.
Google Display Network: In other third-party websites, you can see the ads like a banner.
Google Video Ads Network: You might have seen ads on Youtube that are all Google Video Ads only either in the form of brand ads or in the form of Testimonial. 
So here is the appropriate Google Ads Strategy for your college
You need to spend 70% of budget on a search campaign for better queries with higher search intent and getting more queries about the college and the courses your college offer.
20% on display and video campaigns so that it helps to target a different set of audiences from the 20% of an ad campaign and the rest 10% of the budget should be spent on the remarketing campaign so that students who have seen the ad once but have not been converted yet can see the ad repeatedly. It could be in the form of a video testimonial and guidance with a detailed overview of the college and its best courses and a short review so that the audience can have a sense of trust before enrolling in any course and can relate to it.
Also, the most important thing which you need to take care of here is that budget is not fixed for all types of niches. As per your niche, location, and requirements, your budget also changes it will never be fixed as per your customizations your budget will also get affected. Have a look at our few campaign budgets to make this thing more clear to you.(Need to attach proof here or link here pranav.jha75@gmail.c om)
It is very important to optimize the Google Ads campaign properly in order to get good results and for best results, you can Hire an educational marketing agency or digital marketing agency to build and monitor the campaign and keep track of it and provide you the best results.
Stage 10: Target the Audience via Social Media Platforms (Fb/ Instagram Ads)
Other than Google Ads i.e Search Engine Marketing your potential audience is on other platforms like Facebook and Instagram as well. Today's Youth is much active on Social Media and they believe what they see. So it is very important for your college to make them believe that your university is the best.
The best way to get leads/admissions for your college via  Social Media is to be transparent because people like transparency and they can easily sense the truth. Here are some quick tips for you – 
Use Video Ads to Promote Via Fb Ads/ Instagram Ads as video testimonials will provide a sense of trust to the students i.e your target audience.
Find your apt target audience on Instagram and Facebook with the help of proper audience targeting on the basis of age group.
Sharing the customer/student reviews on your Instagram/Facebook page and ask for recommendations from the current students.
A/B Testing is very important so you might have to keep a check on which type of ad is working better for you and then wisely spend the budget on your organic as well as paid social media marketing.
Stage 11: Email Marketing (Create an Email List and Target the audience via that)
As of now, there are around 3.9 billion email users and that is almost half of the World's Population. If we calculate the percentage of youth who are active on the email that is very high because almost every person is an adult or a student they have an email id. Email Marketing is the best way to generate leads for your university because students tend to search alot about their dream courses and then they end up sharing their details such as Name, Age, Email, Phone Number and that is what really helps!
Email marketing is one of the most powerful and successful tools in a university's digital marketing area. One might have a little expertise and some trial and error to create successful email campaigns. Just focus on the following things if you choose Email Marketing for your college's marketing.
Use automated email marketing tools as they help to shoot emails to the right set of students for the course you are looking for. Some of the best tools which I personally recommend for Email Marketing are as follows 
*Sendinblue which works great for the email shooting and performing good email marketing
*Mailchimp also offers free trial and you can use it if you are beginner.
*Zoho Email is good for businesses as it might help them to move ahead in a professional way.
Understand your Audience's Needs and share with them what they are looking for. Your email might just force them to open it and read all the details
Do not spam as it would irritate them and they would have a bad impact and might unsubscribe to your emails.
Avoid using harsh words be a little easy and polite towards them. For example, If you are sending personalized emails at the stage of the decision-making process are sometimes all it takes to convince students that your university is the best choice and they should definitely go for it
Check the CTR in emails and retarget the audience if needed because if you are targeting the wrong audience then it might be a waste of your money, time, and efforts.
Stage 12: Analysis of Quality Leads
Most of the people miss doing that yes that here refers to Analysis of Quality Leads, Some Universities are not following the current approach of analyzing and targeting and that is why they are facing a downfall in admissions. Are you one of them? One should be creating relevant, valuable, and on the point, content to target your audience and it also might help to analyze if your audience likes your content or responds to it or not. 
In my opinion, you should be asking these questions to yourself while analyzing your lead quality
Which platform performed better?
What type of ads got the results?
Which ad we should run in the future?
What was the estimated ad spend?
I have experienced that Content marketing helps educational institutes to generate more qualified leads, high inquiry rates, and admission rates too. Moreover, Content marketing will act as a 24X7 customer executive for your target audiences and will give them answers to all questions they have.
Stage 13: Keep your User Experience on Priority
People often neglect the user experience but they do not realize that it is important from an SEO point of view as well. But you might be thinking that how to improve your User Experience? There are a few factors that you might keep in mind while trying to improve the User Experience:
Good Hosting is what you need at the start. Good hosting helps in easy page loading and improves the speed of the website also. If you have chosen bad hosting then it might affect your website loading speed as well as disappoint the users as well as the search engine.
Design your website to the best so that your audience might get impressed by your web design. Keep it professional and likable as your design has a huge impact on the students visiting your website and influences their decision. If students think the site is outdated and unprofessional they will immediately leave your website.
Stage 14: Create and Engage in Facebook Groups
Nowadays Facebook group is the trend which people are following and driving traffic and leads from. Create a Facebook group and give it a suitable name related to your college/courses or specialization. Start adding relevant audiences inside it and keep engaging with them to your best. Because regular engagement will help you in building trust and keeping them involved and it might also lead to a high conversion rate.
The best example of this is the Fundamentals of Digital Marketing Group i.e FODM Group on Facebook which has an amazing community of active digital marketers and even due to such groups it helps Businesses and Startup Owners to get good clientage as well. The group is managed by a team of AP Web World and Pranav Jha itself and they are getting good responses and conversions from their own group in Digital Marketing.
Stage 15: Keep your DA, PA High, and Spam Score Low
For some people, this term might be new DA, PA, and Spam Score but these are the core judging criteria of which builds trust amongst the audience. Spam score should always be less as people might lose confidence in your website and brand and will not give their time and effort to it. Want to check what your spam score is? You can try Moz chrome extension toolbar which tells people to spam score and DA, PA of any website. If your spam score is high then you need to work on it and check where those spam is coming from and totally eliminate it. Need help with that? Get in touch with me now.
Online Marketing is not easy especially when it comes to the educational sector. I am sure if you are reading this blog then you might have faced some issues or have been looking for the appropriate strategy to implement for your university. The goal of every college today is to create a brand reputation and value amongst the students they have as well as enroll more students, but this is possible via a good marketing plan and efforts. If you have any queries regarding your institute's marketing strategy then you can have a consultation call with me and I can guide you out with the best ways to have good quality leads and students.
Happy Marketing! All the best!