Recently updated on December 13th, 2021
Amazing List of Top Web Hosting Services For Your Website in 2022
Are you confused about choosing the right hosting provider for your website? Don't worry this guide might help you in making a decision as you are going to see the list of top Web hosting services and how you can pick one for your website.
With the ease of use and big developer community, WordPress has been the most favorite Content Management System compared to others even for web developers. It powers more than 30% of the entire websites online. So kickstart your website on WordPress getting a domain name and shared hosting are the aspects where many people get stuck.
In this guide, we are gonna discuss Web Hosting services only. Choosing a Quality hosting service for your website development helps in providing a good website user experience and indirectly helps in rankings from the SEO perspective as well. But with too many hosting providers out there, you might be confused about selecting a good one for your website.
So let me share with you some of the most important factors that you need to check before buying hosting.
Important Factors To Check:
1. Flexibility to add an SSL certificate:
Having a Secured Sockets Layer(SSL) certificate installed on your website is an important factor as Google considers it a ranking signal. So make sure to have it installed as it can impact the position of your webpages in the search engine results pages.
Good web hosting service providers would allow you to easily add a Free SSL certificate to your websites that would be discussed later in this article. Remember it is not mandatory to buy an SSL certificate from the hosting providers, setting up a free SSL would be more than enough.
2. 24 x 7 Customer Support:
From the development stage to the fully functional stage of a website, your website might not work normally at any point in time. Different types of problems might occur like technical errors, malware issues, etc and you need to have good customer support to help you out in those difficult times. So the availability of 24 x 7 customer support is an important thing to check and get your problem resolved or fixed soon.
3. Server Location:
The loading speed of a website depends on the location of your web server. Suppose if your website is for people from United States then you need to buy the hosting from the provider whose servers are present in that location so that it would load fast compared to the speed when the servers are present in other countries.
Now you got to know about the factors that you need to check, let me share with you the list of top website hosting services in 2022.
Site Ground is one of the best hosting providers with fair pricing. They offer three plans for Shared Hosting;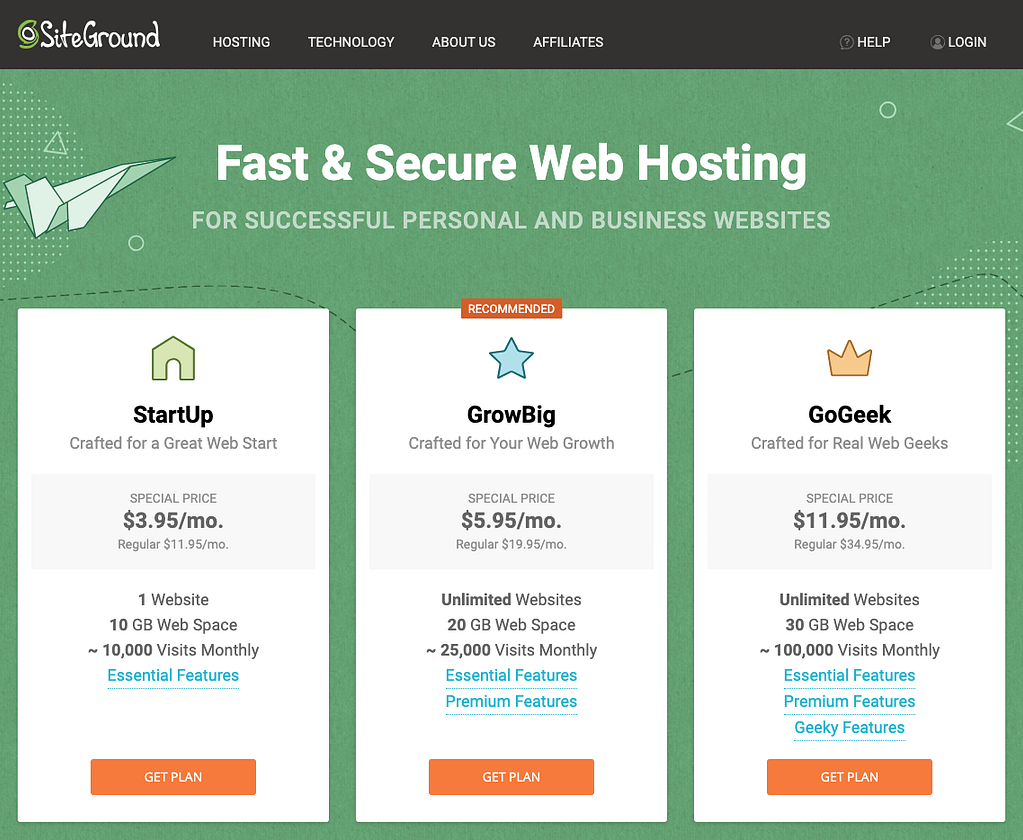 Depending on the requirements such as the visits to your website or number of WordPress installations or any other factor choose the plan that would be useful and affordable. Even once your website requirements grow up then you can easily upgrade to a reseller hosting or enterprise hosting.
Key Features of Their Hosting Service are:
Unmetered Traffic
Unlimited Databases
Free Email
Free WordPress Installation
Free SSL
24/7 Customer Support Available by Phone, Chat, Ticket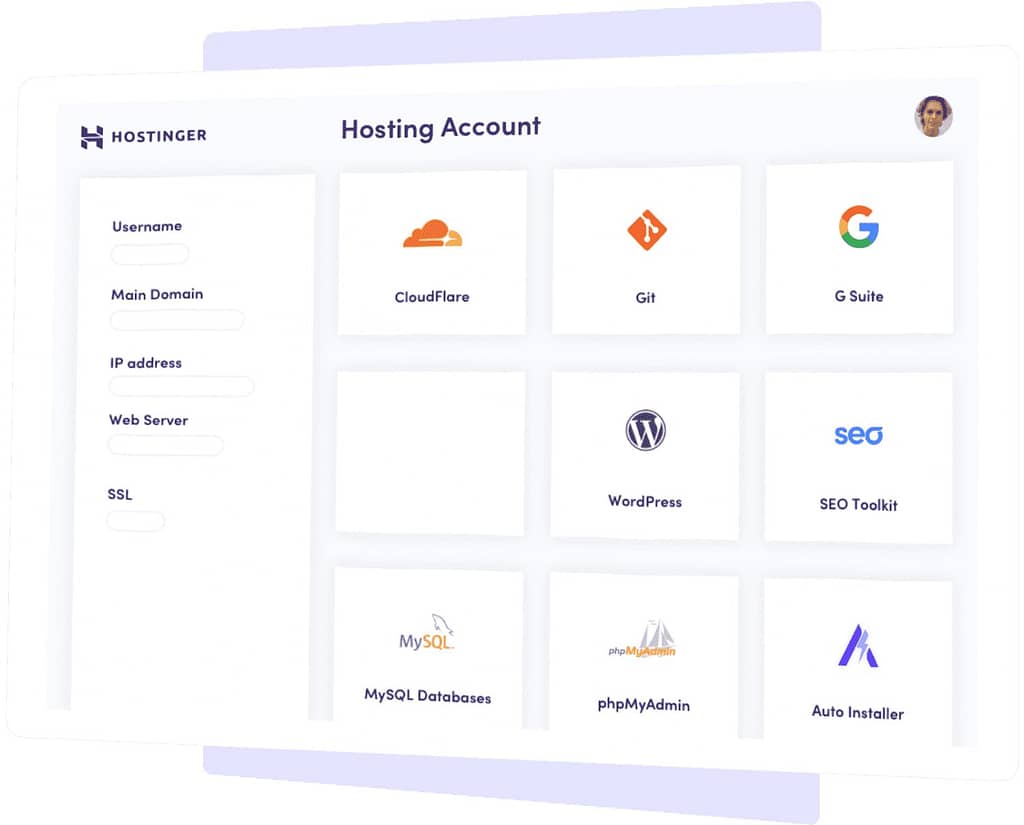 Hostinger is an old player in the hosting industry founded in the year 2004 at Lithuania. It has an Indian registered company as well. You can find the following plans of Shared hosting on their website.
Single Web Hosting
Premium Web Hosting
Business Web Hosting
Some of the best features of the Hostinger WordPress hosting services are:
Free SSL certificate
24 x 7 Chat Support
WordPress Acceleration
But you don't get daily backups on every plan so depending on your affordability and requirements choose the right plan that would suit your needs.
Bluehost is one of the most recommended hosting companies and offers cheap shared web hosting for website development. It offers the following plans;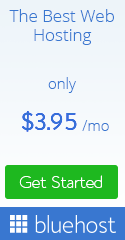 The best part is you can get a free domain on every plan you purchase. Other important features of their hosting services are:
Free SSL Certificate
Unmetered Bandwidth
Phone and Chat Support

A2 Hosting is one of the most popular among the hosting providers offering the users much faster Turbo servers if you want to have very low loading time. It offers four different hosting plans
Startup
Drive
Turbo Boost
Turbo Max
Especially if you are looking to migrate your fully grown website with huge traffic volumes then this is the right choice. They provide the ability to the customer to get a Turbo server and more resources opting for a Turbo Max plan. Some of the important features of their hosting service are:
24 x 7 Live Chat, Email, Phone Support
Web Staging
Unlimited Email Accounts
Hostgator is a web hosting company owned by the EIG group that also owns the Blue Host. It has won many awards for its various hosting products and customer support. Personally I have been using this hosting for some of my websites and their support is good as well. You can get servers both in India and the US for your website by selecting it from the pricing page. It offers you four different plans.
Starter
Hatchling
Baby
Business
Hostgator provides you the ability to get a dedicated server if you want an exclusive server for your business by choosing the Business plan. Other important features of this hosting provider included with every plan are:
24 x 7 Email, Phone, Chat support
Free SSL
Unlimited Databases
Inmotion Hosting is the best choice if you are looking for hosting servers in the USA as it is from Los Angeles. The most useful thing they provide on every plan is a security suite that prevents your website from getting infected with Malware and from DDOS attacks as well.
It currently offers the following plans:
Also buying any plan you would get access to various marketing tools for free such as website builder, visitor statistics, etc. Some other features of the hosting services provided by this company are;
Free Domain
Unlimited Bandwidth
Phone and Chat Support
They even have a knowledge base where you can find answers to the most common questions.
Fast Comet provides many useful security and speed optimization features when you buy their hosting plans compared to the other hosting providers such as two-factor authentication, Hacked websites recovery, Aggressive GZIP, Autominify, and many more.
It offers the following plans in the shared hosting
Fast Cloud
Fast Cloud Plus
Fast Cloud Extra
Additionally, you get human monitoring for your websites and 24/7 Instant support if needed.
TMD hosting is a reputed hosting provider offering hosting services for more than 10 years. It offers unlimited SSD storage and unlimited Bandwidth on all of its hosting plans. It offers the following Shared Linux Web Hosting plans:
Starter
Business
Enterprise
You can get premium support. free daily backups along with Live malware protection if you opt for any of their plans.
Genxw hosting is one of my favorite Indian hosting companies that I personally use for the websites with Indians as target audience to have a good loading speed. Their plans start with very low monthly pricing compared to the above hosting providers.
Also, they provide good customer support in case if you need any kind of support from their end. Their hosting servers are protected by Anti-DDOS pro so you need not worry about the security of your website.
Conclusion: Top Website Hosting Providers
Choosing a quality web hosting provider is important for your website to be secure and load fast. Almost every good hosting mentioned above has 99.9% of uptime so you need not worry about it. Make sure to check their money-back guarantee terms and connect with their customer support if you have any questions about their hosting plans.
I (Pranav Jha) hope the above list of the top web hosting services to get your WordPress website developed is useful for you. So depending on your affordability, target visitor's location, and other technical requirements of your website choose the appropriate plan offered by a hosting provider.